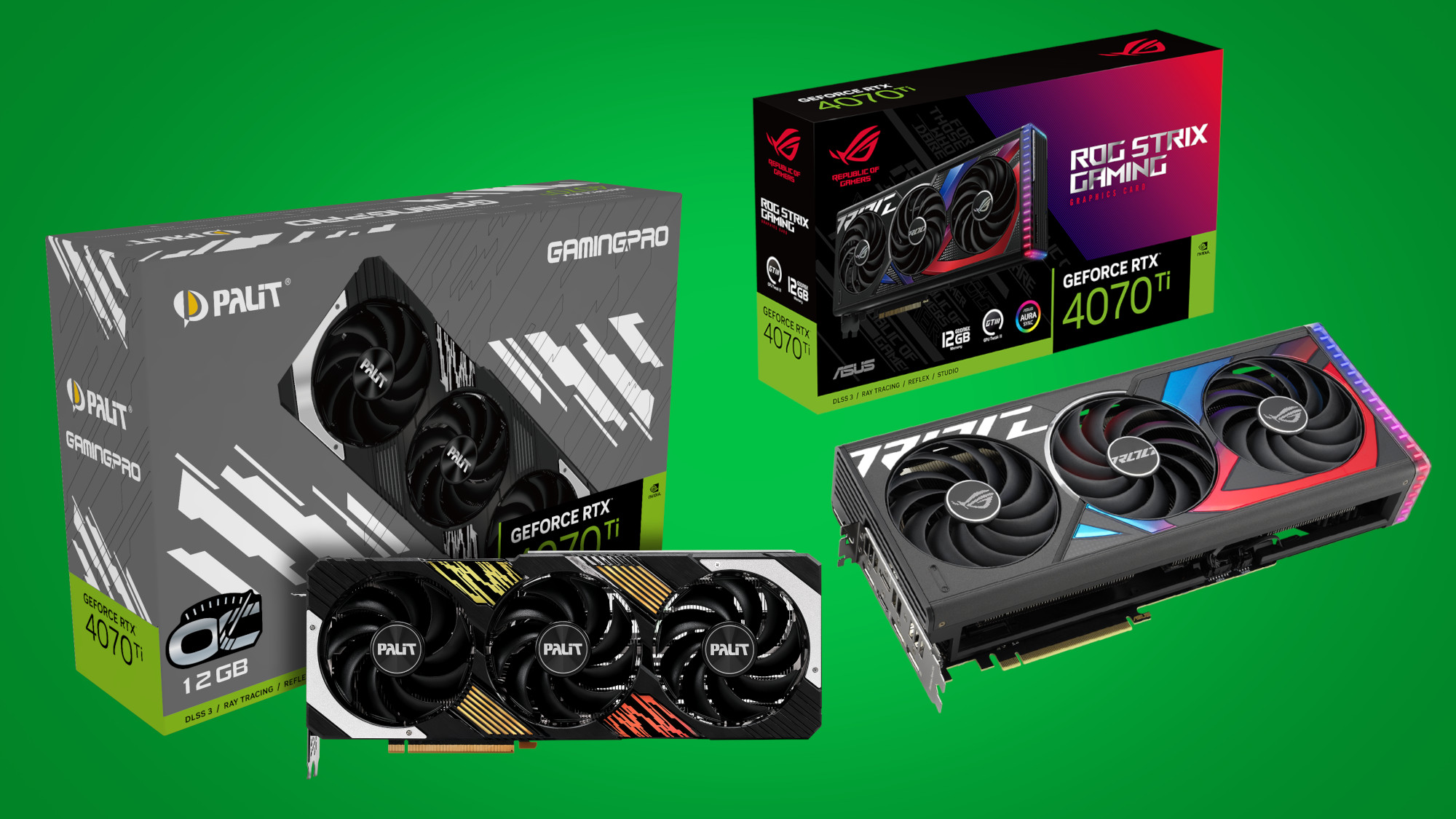 The RTX 4070 Ti has officially been launched by Nvidia at CES 2023, starting at $799 (£799, around AU$1,170), and it went on sale on January 5.
This new graphics card is something of a wolf in sheep's clothing, and we don't mean that in a bad way. The Nvidia RTX 4070 Ti was originally slated for release as the RTX 4080 12GB, before Nvidia pulled a U-turn and 'unlaunched' that card, admitting that the name was confusing when another RTX 4080 already exists.
This card has a $100 knocked off the RTX 4080 12GB's original retail price of $899 (£899, around AU$1,315), though, which is good to see. While $799 isn't exactly what we'd call a 'midrange' price, the lower cost will likely see this card sell out just as fast as the incredibly popular RTX 4090.
If you're looking to nab yourself one of the best graphics cards, keep an eye on this page: we'll post stock updates and include links to relevant buyers, with our expert advice to help you avoid getting scammed. If it's a different GPU you're after, you can check out our where-to-buy pages for the RTX 4090 and RTX 4080 too.
Refresh
Micro Center and B&H Photo still aren't showing any RTX 4070 Ti stock on their respective online storefronts, with Micro Center's website cheerily reminding us that 'our best deals are found in-store!'
Still, there's no need to drag yourself down to your local computer hardware store just yet – more stock appears to have landed at Newegg, with a whole bunch of 4070 Ti cards sitting comfortably in the $800-$900 range. It's telling how all the 'shipped by Newegg' cards are sensibly priced, while third-party sellers with oblique names like '5Ggo' and 'SJF' are trying to squeeze gamers for as much as $1,579!
As predicted by just about everyone with a pulse and a brain, the scalpers are out in force on eBay right now. Virtually every RTX 4070 Ti being sold there is up for $1,100+, but we're hopeful that strong stock showings at actual, reputable retailers means that nobody will buy these cards. Let the scalpers lose their money, we say!
Over in the UK, meanwhile, most of the big retailers still have stock. It looks like Overclockers is still the best place to look – although more cards have sold out since yesterday, the cheapest model from Zotac is still available at £848.99. The closest model we've seen to this one in price is the Palit GamingPro RTX 4070 Ti, currently £850.99 at Box.
We're back! The good news is that stock of the RTX 4070 Ti seems to be holding strong. Is this down to Nvidia (and third parties) making sure enough GPUs were made this time? Or is it a sign that people just aren't that excited about it, and are holding out for more RTX 4090 stock to arrive?
Whatever the reason, if you want an affordable RTX 4000 series GPU, you're still able to get the RTX 4070 Ti at reasonable prices. Best Buy, for example, has the PNY GeForce RTX 4070 Ti for $839.99, and the MSI VENTUS 3X OC for the same amount. However, neither of these are available to buy online – you'll need to head to a store to pick them up.
We're still seeing a surprisingly slim amount of cards showing up on Amazon in both the US and the UK (although there are plenty of scalped units appearing on eBay). Demand just doesn't seem to be quite as high this time around – possibly due to the $799 MSRP that marks this theoretically 'midrange' card as more of a premium offering.
It's entirely understandable; the last-gen RTX 3070 Ti was only $599 at launch, after all, even if stock was quickly guzzled by crypto miners and bots. Anyone looking for a more affordable new GPU will likely be best off waiting until the desktop version of the RTX 4060 (which has already been announced for laptops) rolls around.
Stock is drying up slower than we had expected, but it's still selling. At the time of writing, we counted six separate RTX 4070 Ti models that were out of stock at Newegg, and two of the models on sale at Best Buy are out of stock too.
Still nothing from B&H Photo and Micro Center, although it's entirely possible that these retailers are retaining stock for in-store sales before releasing any to the online market. If you live near one of these sellers, you might want to consider nipping down there to check out the stock situation before committing to an online purchase – you'll likely be left waiting on shipping even if you do manage to secure one.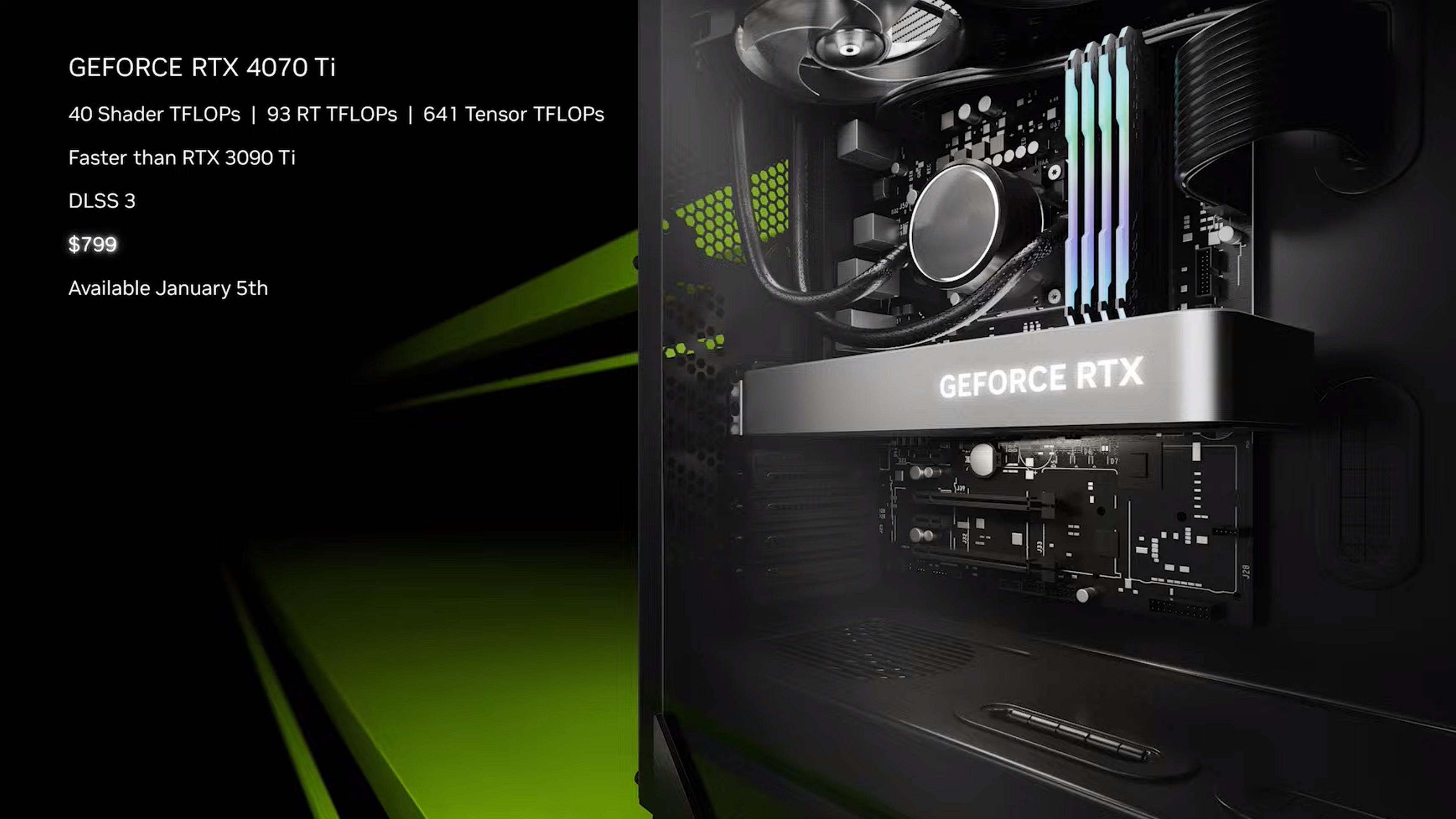 Stock has now landed with Ebuyer in the UK, though right now it looks like Overclockers still has the cheapest RTX 4070 Ti cards for British buyers. However, several models at Overclockers have reverted back to displaying a 'pre-order' button instead of purchasing options, indicating that they've already sold out.
Staggeringly, it looks like we're actually not going to see a massive sell-out of these cards on launch day, as we did with the previous two Nvidia GPUs and AMD's competing Radeon RX 7900 XTX.
This could be due to the fact that everyone with big bucks to spend upgrading their gaming PCs is holding out for an RTX 4090 instead (or already got their hands on one). The current economic climate is likely also a factor; either you've got cash to spend on a GPU, or you don't, and if you do you're ostensibly more likely to opt for a higher-performance card.
In fact, there's a whole host of reasonably-priced RTX 4070 Ti models at Newegg right now. Most are slightly above the $799 figure quoted by Nvidia, but it's not uncommon for factory-overclocked cards from other manufacturers to throw a few bucks on top of the price – you're getting a slightly better version of the GPU in theory, after all.
Red alert, everyone! There's actually an RTX 4070 Ti selling for MSRP on launch day! We haven't seen this in the US in forever, with all the recent GPU launches playing host to mass sell-outs, retailer price gouging, and widespread scalping.
Take a trip over to Newegg, though, and you can find this Zotac Trinity RTX 4070 Ti for $799.99 – is that technically 99 cents above the actual retail price given by Nvidia? We guess so, but we're willing to let this one slide.
Judging by the current stock situation, it looks like the UK is going to demonstrate a repeat of the RTX 4080 launch. While the card sold out immediately in America, British buyers didn't seem so enthused; likely a result of the current cost-of-living squeeze that is badly affecting the UK.
That means we're still seeing a lot of RTX 4070 Ti models on sale in Britain, with a ton of different models available from Overclockers, which seems to be where the best deals are right now. Other retailers also have stock, but it's often more expensive. Some cards on Scan are selling for as much as £1,049!
Newegg's actual own stock has dropped, so forget about those pricey third-party sellers: you can get this Gigabyte Eagle OC RTX 4070 Ti for $849.99 right now. Nothing from B&H Photo yet, which means that if the card sells out elsewhere that might end up being the best place to look.
Somewhat surprisingly, we're not seeing a huge amount of RTX 4070 Ti cards show up on Amazon just yet. There's one MSI model being sold for a frankly ridiculous $1,299.99, and nothing at all to see on UK Amazon.
At this point during the RTX 4090 launch, we were already seeing a bunch of scalped GPUs being sold way, way above MSRP. This is a slightly heartening sight, though a quick trip to eBay shows a bunch for sale at $1,000+ prices – including one wiseguy who says he'll ship it as soon as he receives it on January 12. So to be clear, that's someone who has locked in an order for the card and couldn't even wait for it to be delivery before putting it up on eBay. Some people…
Over in the UK, it looks like Overclockers is the place to be, since Scan, Box, and Ebuyer are all listing the RTX 4070 Ti at £900 or above. You can snag this Zotac Trinity model (or one from Inno3D) for £848.99. If you're not a fan of those brands and are willing to pay a little more, you can get this Asus TUF RTX 4070 Ti for £869.99. 
Currently in the US, the cheapest RTX 4070 Ti we could find was at Best Buy: this MSI Ventus 3X OC model for $839.99, slightly above the $799 MSRP. As mentioned previously, you'll need a Best Buy account to snap one up, as the retailer is attempting to prevent another instant rush of sales to scalpers – learning from the mistakes of the RTX 4090 launch, clearly.
Newegg has stock, but only from horribly overpriced third-party sellers. Micro Center doesn't appear to have any units for sale. It looks like B&H Photo will be stocking the card, but it's still marked as 'coming soon' on the website so keep an eye on that one.
Ironically, it looks like Nvidia's website links are playing up. On the UK site, some of the links to retailers don't appear to be working – you can use our pinned links above to instantly get to the relevant storefront!
And we're off! The Nvidia RTX 4070 Ti is officially on sale, though not all retailers have it available just yet. If you're in the US, it's available from Best Buy at retail price, but you'll need an account to purchase it.
Meanwhile, in the UK, Scan and Overclockers both have stock available, with prices starting at £848.99 and ranging up to around the thousand-pound mark. Stock is likely to evaporate faster than the lukewarm RTX 4080, so move fast!
A quick bit of analysis here of the RTX 4070 Ti models being promoted on Nvidia's own website: while Team Green might've dropped the US MSRP from $899 to $799 when it rebranded the RTX 4080 12GB to christen it this GPU instead, it looks like a third-party manufacturers aren't playing ball.
Not a single one of the 'coming soon' cards listed on Nvidia's website is priced at $799 – the cheapest is an MSI model at $839.99, and some are priced at the original $899 mark. This could be due to the manufacturers sticking with their original price plan for some of the cards – or they may have already taken an unseen hit when Nvidia renamed the GPU, since factory-overclocked models are frequently a bit more expensive than those that come direct from Nvidia.
It's worth noting here that there doesn't appear to be a Founder's Edition version of the RTX 4070 Ti. This isn't entirely surprising, since Nvidia tends to prioritise its most powerful cards for first-party FE variants, but it's a tad unusual since there was a Founder's Edition RTX 3070 Ti in the previous generation.
Remember, we're very likely to see scalpers pop up once the card goes on sale. In fact, it looks like some sellers on Newegg are already prepared to capitalize on the inevitable stock shortages here; there are a bunch of RTX 4070 Ti models already listed from independent sellers of varying degrees of sketchiness, and virtually all of them are being offered for upwards of $1,000 – far beyond Nvidia's MSRP of $799.
Some of these cards are being sold for frankly ridiculous prices, closer to that of the RTX 4090 (though of course, you won't find one of those at retail price right now either). Needless to say, you shouldn't buy a 4070 Ti for $1,500!
Unlike with the RTX 4090 launch, Nvidia hasn't given us a specific timeframe for the release today. We can reasonably assume it'll be tied to a US timezone, so readers in other timezones may have to wait for a while even though it's already January 5.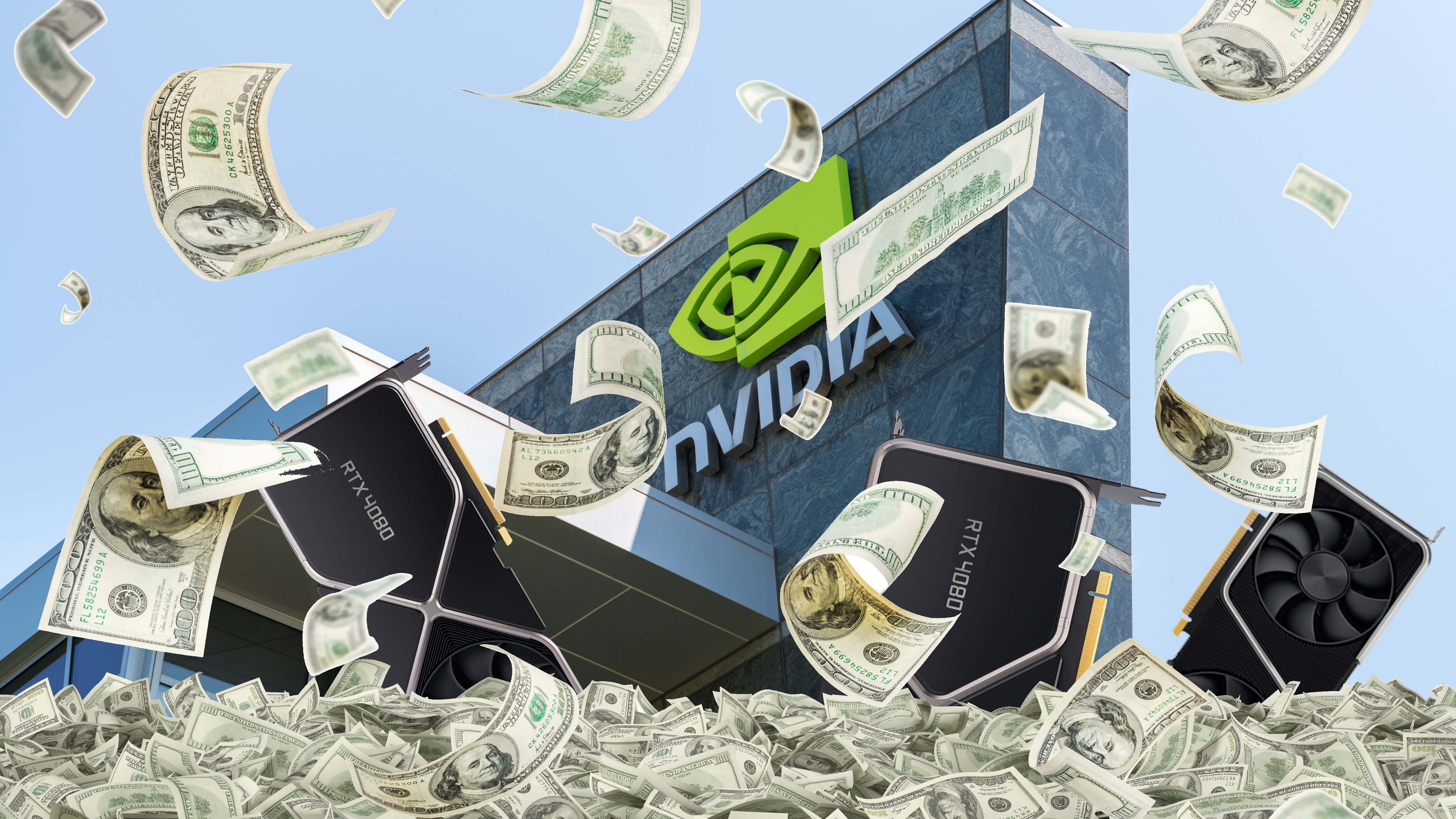 When the RTX 4090 went on sale, it sold out almost instantly, and while the RTX 4080 eventually sold out, it took a little longer.
What will happen when the RTX 4070 Ti goes on sale? Due to the value proposition, it could sell out quickly – being the cheapest GPU of the current RTX 4000 series, it could make it more of an 'impulse' buy, and people disappointed at not getting the RTX 4080 or even 4090 might try to get the 4070 Ti to tide them over.
Keep this page bookmarked and we'll help you beat the rush and hopefully snag a new GPU.
Today's the day! The Nvidia RTX 4070 Ti will go on sale at some point on Thursday January 5. We don't have the exact time just yet, so we'll be keeping an eye out and will update this blog when stock starts appearing.
If Nvidia follows its previous launches, we expect it to go on sale at 9am ET, which is 2pm GMT for people following along in the UK.