Five former Memphis police officers charged in the death of Tyre Nichols will be arraigned on Feb. 17, according to court records.
Tadarrius Bean, Demetrius Haley, Emmitt Martin III, Desmond Mills Jr., and Justin Smith were charged with second-degree murder, aggravated assault, aggravated kidnapping, and a slew of other charges stemming from a traffic stop earlier this month that resulted in Nichols' death. Video footage that was released Friday night that appeared to show the officers kicking and punching Nichols, who died at a hospital several days later.
Court records show that the officers—who are all black—will all be arraigned together at 10 a.m. at a court in Shelby County, Tennessee, according to multiple news reports. Judge James Jones will hear the case, the records show.
They face up to 60 years in prison if convicted of second-degree murder.
Last week, the five officers were fired from their jobs amid reports that the bodycamera footage would be released to the public. The video images released Friday show police savagely beating the 29-year-old FedEx worker for three minutes while screaming profanities at him in an assault that the Nichols family legal team has likened to the infamous 1991 police beating of Los Angeles motorist Rodney King.
At one point in the video, Nichols calls out for his mother before his limp body is propped against a squad car and the officers exchange fist-bumps. The video also left many unanswered questions about the traffic stop and about other law enforcement officers who stood by as Nichols lay motionless on the pavement.
In the video footage, the officers make claims about Nichols' behavior before the incident took place. In one, an officer said that during the initial traffic stop, Nichols reached for the officer's gun and almost had his hand on the handle. It's not clear whether that was shown in the video.
After Nichols is in handcuffs and leaning against a police car, several officers stated he must have been high on drugs. Later, one says no drugs were found in Nichols' car, and another immediately counters that he must have ditched something while running away.
Over the weekend, the Memphis Police Department announced it would permanently disband the city's "SCORPION" unit, an acronym for Street Crimes Operations to Restore Peace in our Neighborhoods.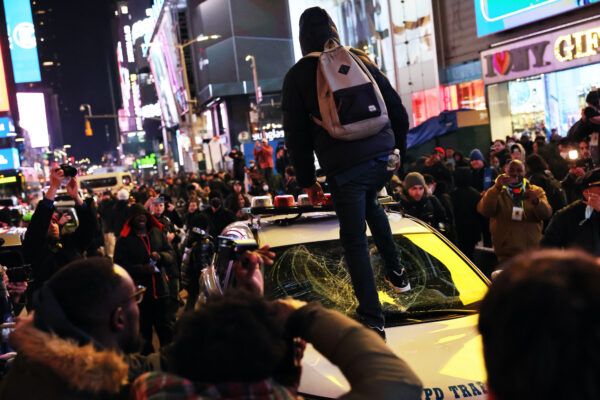 The unit is composed of three teams of about 30 officers whose stated aim is to target violent offenders in areas beset by high crime in Memphis, considered among the most violent cities in the United States. It had been inactive since Nichols' Jan. 7 arrest.
Describing the officers' actions as "heinous, reckless, and inhumane," Police Director Cerelyn "CJ" Davis said at a Friday press conference that her department could not determine whether Nichols was driving recklessly before he was stopped. "We don't know what happened," she told The Associated Press, adding, "All we know is the amount of force that was applied in this situation was over the top."
But Blake Ballin, an attorney for Mills—one of the officers—said that his client did not "[cross] the lines that others crossed."
"The videos released on January 27 have produced as many questions as they have answers," Ballin said in a statement to news outlets on Saturday. "Some of the questions that remain will require a focus on Desmond Mills's individual actions; on what Desmond knew and what he was able to see when he arrived late to the scene; on what Desmond knew and what he was able to see after he was pepper sprayed; and on whether Desmond's actions crossed the lines that were crossed by other officers during this incident."
Ballin continued: "We continue to urge caution and patience in judging Desmond Mills's actions. We are confident that the questions of whether Desmond crossed the lines that others crossed and whether he committed the crimes charged will be answered with a resounding no."
Cities nationwide had braced for demonstrations and riots after the video emerged, but protests were scattered over the weekend. Several dozen demonstrators in Memphis blocked the Interstate 55 bridge that carries traffic over the Mississippi River toward Arkansas. Protesters also blocked traffic in New York City, Los Angeles, and Portland, Oregon.
While AP and other news outlets claimed much of this weekend's protests were peaceful, there were reports and footage showing rioters damaging police vehicles. In New York City on Jan. 27, an individual is seen smashing the window of an NYPD police vehicle as a crowd surrounds it.
The Associated Press contributed to this report.