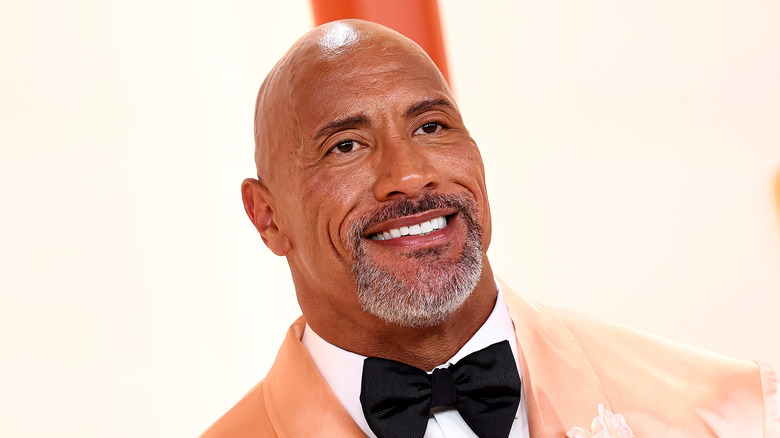 Dwayne "The Rock" Johnson is this generation's, Arnold Schwarzenegger. From his humble beginnings in the WWE wrestling ring to hosting a reality-TV sports competition ("The Titan Games"), starting a premium small-batch tequila brand, co-owning the XFL, and of course, his endless stream of action movies, Johnson is seemingly everywhere.
The charismatic A-lister rakes in more than $20 million for each of his films and has an incredible collection of automobiles. According to Australian GQ, Johnson has some pretty wild exotic vehicles, including custom Ford F-150s, a Hennessey VelociRaptor, Plymouth Prowler, and a Chevy Chevelle SS.
It's not clear exactly how many cars Johnson has, however, sources suggest he's owned at least a dozen high-end vehicles at one point or another. It makes sense, however, when you consider that he has starred in five of the Fast & Furious movies as Luke Hobbs. As a result, he's not only collected cars of his own but also promoted a few as well.
The Rock 5 Most Expensive Cars
Lamborghini Aventador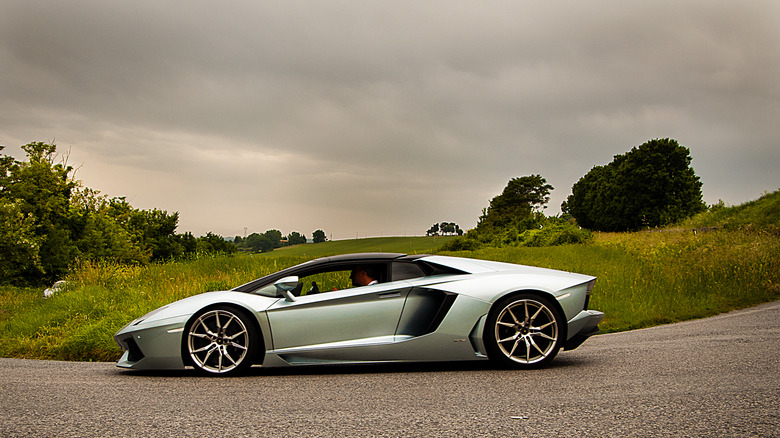 When you start a list of "most expensive" cars with one that clocks in at an MSRP of around half a million dollars, you know you're looking at one heck of an expensive inventory, including a Lamborghini Aventador. Johnson may have a 2015 S Roadster, as he shared a photo getting out of one on Twitter in April 2015 before the trailer premiered for his HBO show, "Ballers."
The base MSRP on this car sits around $453,000, but it also has a litany of custom add-ons available.
This angular, scissor-door, 7-speed automated manual shifting rocket comes with a base 6.5-liter V12 kicking out a bull-like 700-hp at 8,250 rpm and 509 lb.-ft. of torque revving at 5,500 rpm. It has a top speed of 217 mph and goes from standing still to 60 in 2.9 seconds.
It's not the best for gas mileage at 11 cities and 18 highways, but with the Aventador, there are a few fuel-saving features, like shutting down half the engine's cylinders at slower speeds and turning the car off and back on at stoplights.
Ford GT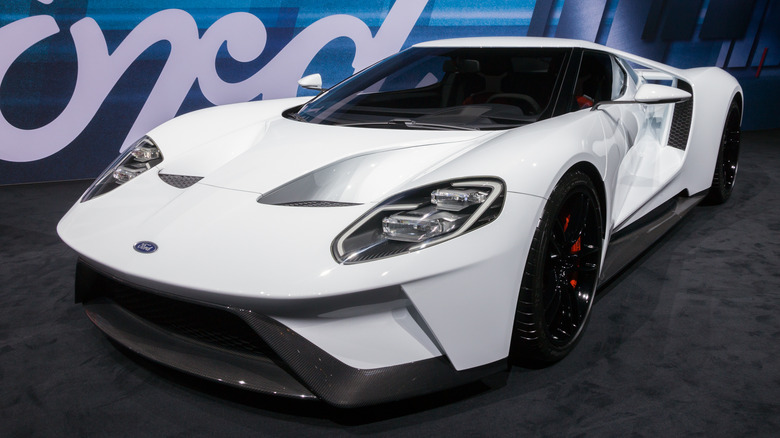 Next, we have Ford's incomparable GT. By all accounts, Johnson's is a 2017 model, a year in which only 138 were made. As an Ambassador of Ford Service, it's understandable why the automaker would want Johnson to drive one of these legends.
The GT had an original base MSRP of $453,750 but now has an average resell value hovering around $1.1 million. 
This mid-engine, rear-wheel drive supercar with scissor doors is constructed of a "carbon fiber monocoque with an integrated steel roll cage," according to Ford. It boasts a twin-turbocharged EcoBoost V6 engine that puts out 647 hp. That engine is mated to a Getrag 7-speed dual-clutch transmission. At the time, it was the most powerful EcoBoost engine Ford had ever built. Car and Driver found in its test run that the GT can hit 60 mph in a cool 2.9 seconds and it tops out at 216 mph.
McLaren P1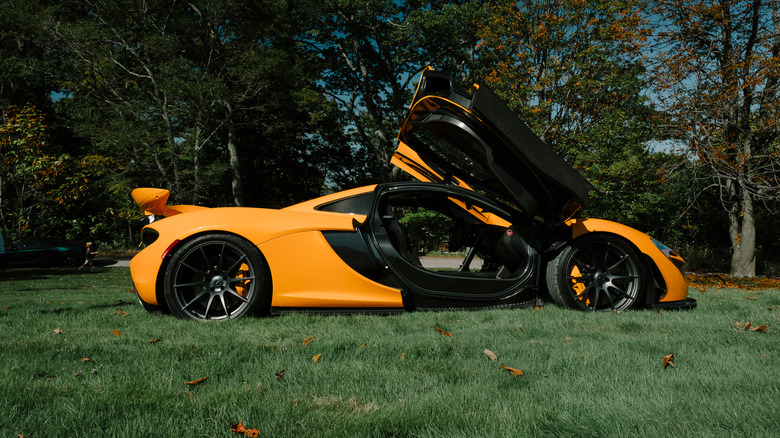 Upping the ante with an original base MSRP of $1.15 million is a McLaren P1 that GQ Australia says Johnson owns. The McLaren P1 was a "spiritual successor to the 1995 F1" but was only manufactured between 2013 and 2015. With just 375 built during that span, it's a truly rare screamer.
McLaren says "the bodywork is shrink-wrapped as tightly as possible over the mechanical hard points of the car and the cockpit sits right at the center." Meaning it is incredibly aerodynamic.
The P1 has a 3.8-liter V8 twin-turbocharged mid-engine and a 132 kW electric motor. This hybrid combo kicks out 903 hp and 664 lb.-ft. of torque. With a top speed of 217 mph, it can go from zero to 62 in only 2.8 seconds.
Despite the blinding speed, it can also be driven in EV mode, and it has a range of 19 miles. The RaceActive Chassis Control channels up to 600 pounds of downforce through the adjustable front and rear wings as the road changes. And like the Ford GT, the P1 also has a carbon fiber monocoque that's double the strength of titanium.
Ferrari LaFerrari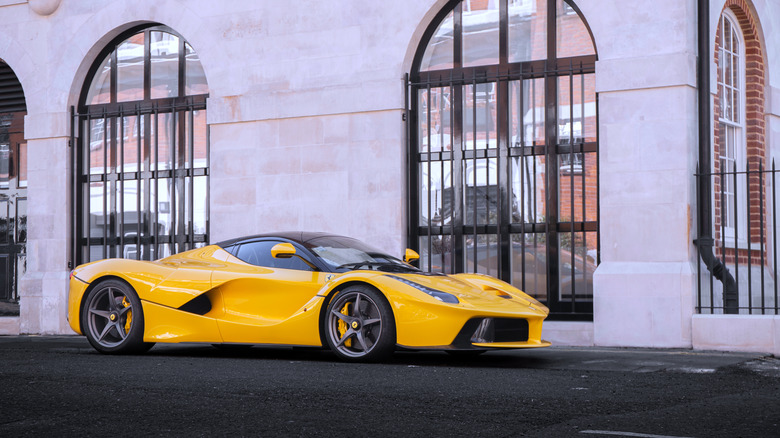 The GQ Australia article claims Johnson owns a LaFerrari. It would be one of only 499 built by Ferrari, making it a rare prancing horse, but Johnson claims there are less than 25 matte white ones worldwide, making his even scarcer.
He continued that being part of "Ballers" let him "admire, touch and play with" a car with a street value of $3 to $5 million. Unfortunately, there was one "small" hiccup: he couldn't fit inside, a problem he undoubtedly had with several of his other supercars.
However, some sources claim he no longer has that "Definitive Ferrari" and that it was just a long-term lease, and when it ended, he decided not to keep something he couldn't drive. The day after the LeFerrari pic, he posted another standing next to a GTA Spano, claiming his "Baller" character couldn't fit inside, but made sure the car was featured in the show. While both might sound like a PR stunt, we'll leave the LaFerrari on the list.
The LaFerrari packs a 6.3-liter F140 V12, banging out 789 hp and 516 lb.-ft. of torque. Its total horsepower is 950 and its torque is 664. The LaFerrari was the last vehicle the company made with a mid-engine V12. It has a carbon fiber monocoque and 7-speed dual-clutch transmission, all of which lets it get up and boogie from zero to 60 in 2.4 seconds and can hit 217 mph.
Pagani Huayra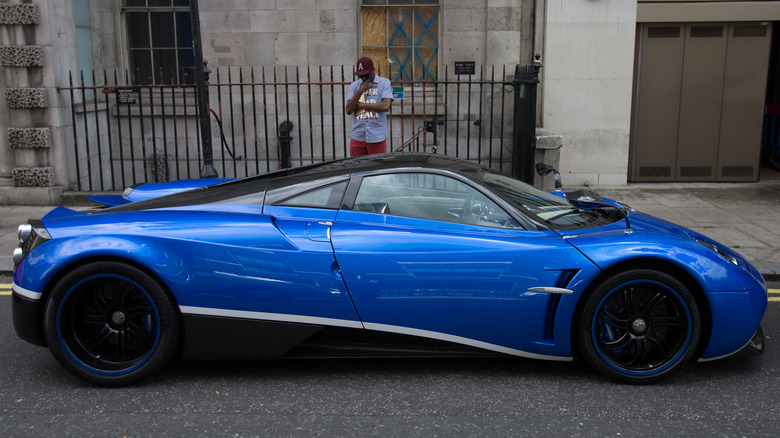 Finally, we come to the most baller of Johnson's cars — the Pagani Huayra (valued at around $2.55 million). Though it's worth wondering if he owns it because all of the photos of him with this hypercar are once again centered around the promotion of his HBO show, "Ballers."
In July 2016, Maxim reported that Johnson arrived at the show's second season premiere in a black carbon fiber Huayra with red accents driven by Brett David of Prestige Imports in Miami. To be clear, it was not Johnson's Huayra but David's. In January 2017, Johnson tweeted that season three of the show would return later that same year and showed a photo of him in a suit standing in front of a dark blue Pagani Huayra.
The gull-wing Huayra in Johnson's photo could be a 2015 model. If so, it would have active aerodynamics and a body made with a unique blend of carbon fiber woven with titanium. It's loaded with a 6.0-liter twin-turbo Mercedes-AMG naturally aspirated V12 mid-mounted engine kicking out 720 hp and  738 lb.-ft. of torque with a top speed of 230 mph.
This dark blue Huayra shown by HotCars is the one allegedly sitting in his garage, but there's no proof to back up that claim or additional photos of him getting in and out of this car anywhere else. In contrast, there are plenty of shots of Johnson driving his Rolls Royce Wraith or Plymouth Prowler. Be that as it may, we'll keep it on the list … for now.