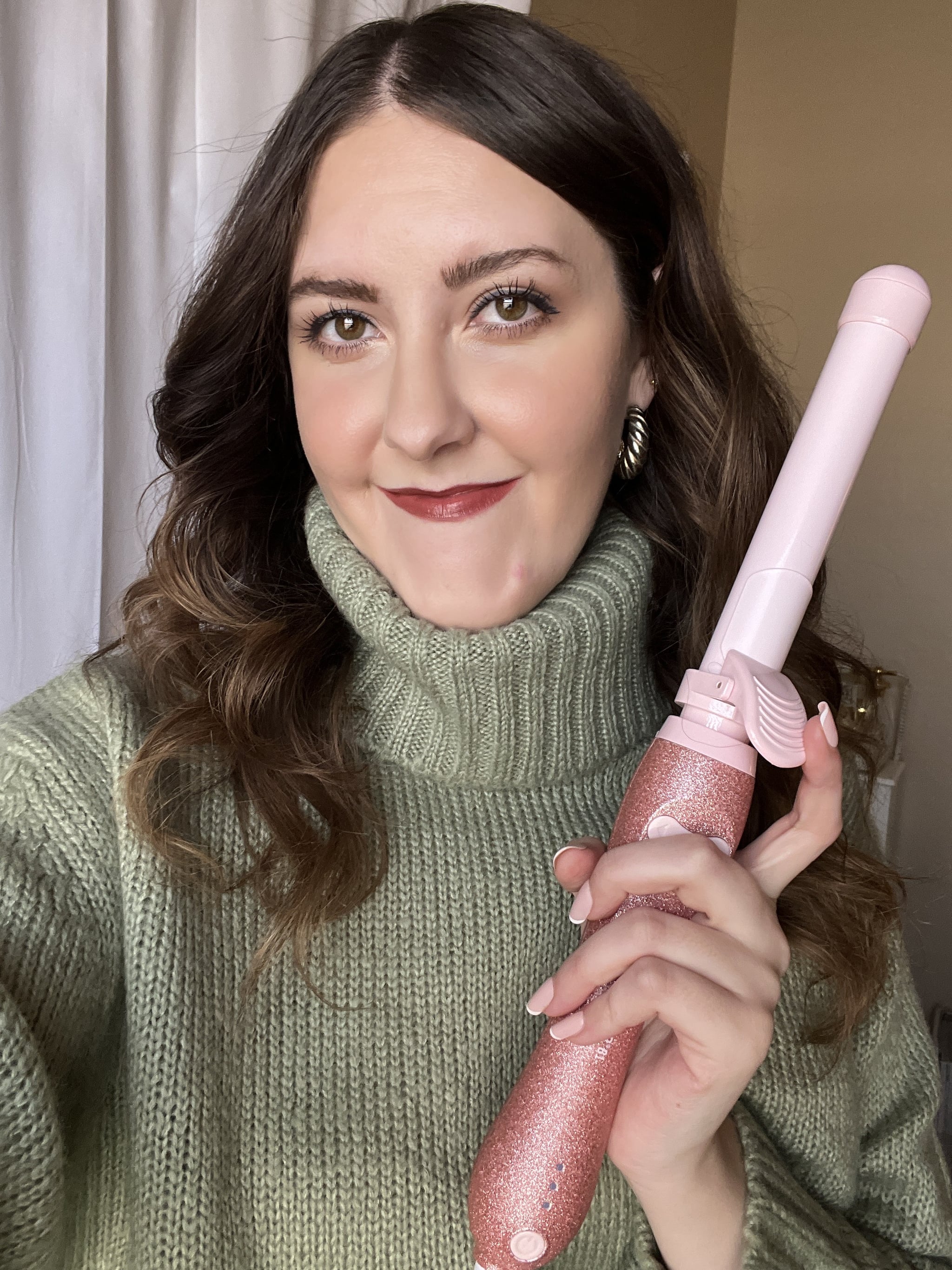 Within my friend group, there's a longstanding joke about how bad I am at styling my hair. In junior high, I decided I could cut my daily morning routine in half by simply crimping only the top layer of my hair and leaving the portions underneath untouched. My girlfriends have never let me live down my so-called "hack" since. While age has helped me learn from those bad-hair days, I still struggle with doing my hair in a way that looks even, professional, and, most importantly, frizz-free.
I've long wished for a hair tool that could create a salon-like hairstyle at home, and I was pleasantly surprised to discover that such a dream product existed. Enter the viral Beachwaver B1 Rotating Curling Iron ($99). Hairstylists, celebrities, and TikTok users alike have hailed the cult-favorite beauty tool as one of the best curling irons for achieving beach waves. Beachwaver Co. was kind enough to send me a sample of its bestselling rotating curling iron to try firsthand, and let's just say, it's already managed to upgrade my hair routine for the better. Keep reading to see my honest review of this internet-loved product with photos.
What to Know About the Beachwaver Curling Iron
Beachwaver's curling irons are available to shop in a variety of sizes, colors, and models with unique heat settings and speeds.
The Beachwaver B1 Curling Iron features three adjustable heat settings, including 290°F (low), 350°F (medium), and 410°F (high).
This one-inch-barrel styler is great for all hair types and features practical design accents like rotational button control, an eight-foot swivel cord and ergonomic handle, plus a short, beveled clamp for added curling convenience.
Beachwaver's rotating curling iron wraps the hair around the barrel with the help of a directional button on the front, allowing users to achieve a perfect curl without any manual twisting.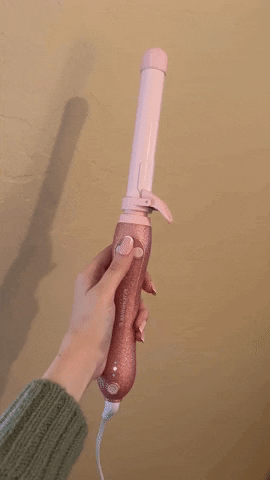 What I Like About the Beachwaver Curling Iron
As a lazy hair girl through and through, I appreciate that this curling iron does all the work in wrapping my hair into a beautiful wave so I don't have to stress about curl tightness or inevitably burning my arm in the process. I separate a one-inch portion of my hair, slide the bottom tip of it into the iron's clamp, and press the directional button on the tool to automatically curl inward or outward from my face, then release the hair after a few seconds. It is incredibly easy to navigate and makes the process of doing my hair each day feel fun, rather than like a chore.
How to Use the Beachwaver Curling Iron
The Beachwaver Curling Iron is easy to use, as it promises. I plug my hair tool into an outlet and wait patiently for the device to warm up. Once the light at the bottom of the device stops flashing, I know I can begin curling. Because I have naturally thick and dense curls, I find that I have the most success when I separate my hair into smaller sections with a hair claw, starting at the bottom of my scalp first and then working my way up to the top. Once my hair is sectioned off accordingly, I part off a one-inch piece, clamp the curling iron down on the end of the hair, press the rotating button (and angle it so the hair will curl outward from my face), and allow the hot hair tool to do the rest of the work for me.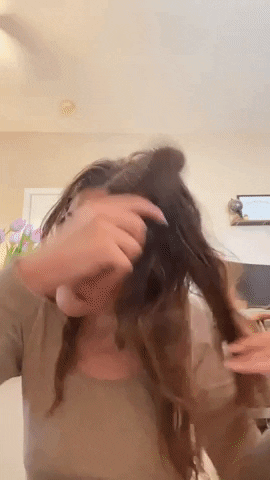 After holding the hair in position for about six seconds, I release it from the clamp, leaving me with a bouncy ringlet. I then repeat the process until my entire head is draped in beachy waves. I prefer a looser, Old Hollywood-inspired hairstyle, so I run my fingers through my hair after letting it cool down. The entire process takes about 25 minutes. Using the tool proved to be much less complicated than navigating a traditional curling iron, yet it still managed to yield even more impressive, salon-like results.
What to Consider Before Buying the Beachwaver Curling Iron
While some curling irons are designed to meet the needs of every hair type, texture, or even styling routine, Beachwaver Co. actually offers a variety of styling tools that are built for different hair demands and desired looks.
For example, the B Series category (which my particular styler falls into) features several one-inch models that all have three heat settings — including 290ºF, 350ºF, and 410ºF — and rotate only at one speed. Whereas with the S Series, users can shop curling irons in a variety of sizes — specifically 3/4-inch, one-inch, and 1 1/4-inch — that can adjust to any temperature setting between 290ºF to 410ºF and move at two separate speeds. That's why it's important to do your research ahead of time to determine which styler works best for you and your current hair routine.
Is the Beachwaver Curling Iron Worth the Splurge?
This hair tool is absolutely worth the price, especially considering all of the curling iron's advanced capabilities. The built-in, self-rotating technology does all of the physical work for you, so you don't have to worry about manually wrapping your hair around a curling iron. You can quickly work through your morning routine or throw yourself together for an event.
And despite its unique abilities, the Beachwaver B1 Curler is under $100, which is still much more affordable than many of the other top-rated (and manual!) curling irons available on the market. Not only has the hot tool empowered me to perfect the look of effortless, Old Hollywood waves at home, but it's also cut the time it typically takes to do my hair in half. Whether you are balancing a busy schedule, are a self-proclaimed multitasker, or have come to the realization that you're comically bad at curling your own hair (it's me, hi!), the Beachwaver is such a sound investment — regardless of your hair type, length, or styling skills.
Where Is the Beachwaver Curling Iron Available?
Beachwaver's famous rotating curling irons are available to shop at Amazon, Beachwaver ($99, originally $119), and Ulta ($149).
Rating:

Image Source: POPSUGAR Photography / Kyley Warren
Beachwaver B1 Roating Curling Iron
Beachwaver B1 Roating Curling Iron
$99
from beachwaver.com
$119
$99
Now 17% off
from beachwaver.com
Beachwaver S1-Dual Voltage Rotating Curling Iron