Patrick Mahomes has always been a stellar teammate. He has never shied away from the responsibility of being a good teammate and a good quarterback. Recently, he led the Chiefs to a win against the almighty Texans. On the field, his excellence was very much visible. However, he shared his thoughts about a particular teammate who he thought played a crucial role in the team.
ADVERTISEMENT
Article continues below this ad
The teammate that Mahomes was talking about was the defensive end, Frank Clark. Clark has had a slightly controversial career in Kansas. He has faced constant criticism, has had to play through injuries and illnesses, and still hadn't earned his due. However, after he made a crucial play happen for the Chiefs, Mahomes was singing his praise.
Patrick Mahomes sings Clark's praise
ADVERTISEMENT
Article continues below this ad
During the game against the Texans, the quarterback was able to pull a potentially game-winning play for the Chiefs. After the game, Mahomes spoke about the brilliant contribution the defensive end had in the game.
The defensive end caused a fumble during the OT that helped the Chiefs recover the ball. The quarterback was eternally grateful for the play that the end had caused. He said, "That's what he's done in his entire career, especially when he's here with the Chiefs," per the Chiefs Wire. When he spoke about the plays that the defensive end has pulled, he talked about the reliability he provided to the team on the defensive end. There was a very real possibility that the game would have turned around the other way if not for the defensive end.
ADVERTISEMENT
Article continues below this ad
OT against the Texans
The Chiefs, one of the best teams in the league, were forced to overtime by the Texans. The game against the Texans was very back and forth with the Texans not giving ground to the Chiefs. Even with Mahomes' effort of 2 touchdowns with 336 yards. If not for the spectacular effort by Clark, the Chiefs would have blemished their 2-game win streak.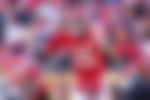 With the spectacular effort from the defense, the Chiefs were able to turn the tables. The question that remains is how far will this defense help the Chiefs in their run for the playoffs.
ADVERTISEMENT
Article continues below this ad
Watch this story: Patrick Mahomes' wife Brittany Mahomes has four words of advice for Will Smith for slapping Chris Rock at Oscars 2022