A senior dog getting the "zoomies" for the first time since his friend passed away is leaving TikTok users teary-eyed.
In a clip shared on January 14 by user Anna (@annaneu_), an elderly dachshund can be seen happily zooming around the house with her new pal—a golden retriever puppy.
Captioned "first time seeing her happy since Juice [passed]," the adorable video has received over 170,000 views and more than 27,000 likes.
What Are 'Zoomies'?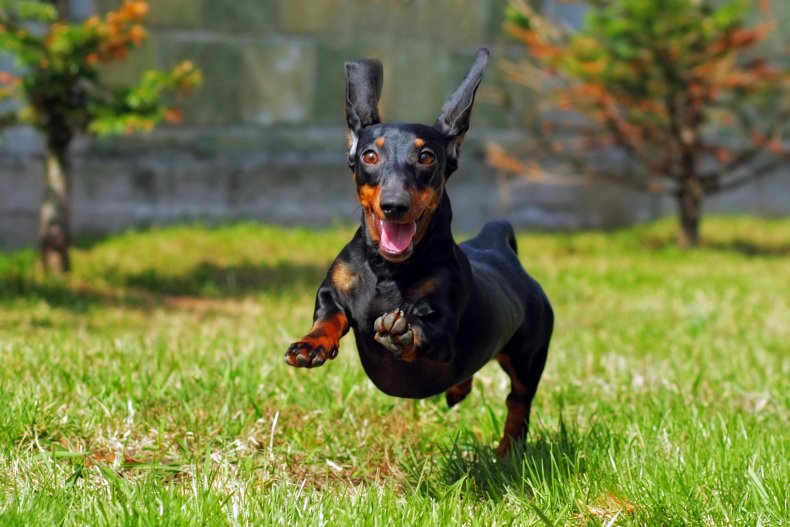 According to the American Kennel Club, zoomies are when a dog "runs in circles at top speed."
Zoomies are a type of "frenetic random activity period" or "FRAP"—a burst of energy that seems to come out of nowhere. For example, dashing around your living room like their life depends on it, or jumping on your bed while you're out of the house.
Although FRAPs or zoomies may seem sudden, your pooch has likely been storing up that energy for a long period of time.
This unexpected surge can be the result of a stressful situation, such as visiting the vet, the chance to burn energy after a long night's sleep, or having time to run around after being crated all day. However, they can also be a sign of delight and a way for dogs to express their excitement.
Although it's more common in puppies with their limitless energy, canines of all ages can experience FRAPs. Dogs also aren't the only ones to get the zoomies, as cats and other domesticated animals can be caught running in circles with wild abandon.
'The Best Sight in the World'
In the cute clip, the senior sausage dog can be excitedly bounding around the house with her new friend.
The dachshund leads the puppy in circles around the kitchen and living room, with the adorable duo zooming across the wooden floors and bouncing at Anna's feet.
In the caption, Anna explained this is the first time the elderly dog has got the zoomies since her pal Juice died. The dog passed away in 2022 and Anna described her new puppy as an "unexpected surprise" from her late pet.
TikTokers couldn't get enough of the furry friends and their zoomies, with user Courtney calling it "the best sight in the world."
"Seeing older dogs acting like their younger selves, even for just a moment, is one of the most rewarding and heart-melting feelings you can experience," said zmcb62.
"You can even see she's smiling, how beautiful," wrote Becca Laurie692.
"The puppy so gentle with her too," added pickleskin39.
"People don't realize the senior years [are] some of the best years," commented Brandy Melissa Massi.
Meanwhile, bjschoey said: "I haven't smiled that hard in months. Thank you."
Newsweek has reached out to Anna (@annaneu_) for comment.
Do you have funny and adorable videos or pictures of your pet you want to share? We want to see the best ones! Send them in to life@newsweek.com and they could appear on our site.