Relationship
See how dynamic duo Megan and Rebecca Lovell dazzle and delight with a svelte signature lap steel (and its 1950s inspiration), two Fender Custom Shop throwbacks, and plenty of soulful, sweet-sounding, sister synergy.
---
"Our relationship is everything about this band," conceded Rebecca Lovell to PG in 2022. "The way that we communicate, the way that we play together, the way that we facilitate one another's musicianship. It is the air that we breathe as a band, and everything revolves around our siblinghood."
Their symbiotic sorcery has taken them from budding bluegrass pickers in the Lovell Sisters (then alongside older sister Jessica Lovell) to real-deal rockstars as Larkin Poe with several No. 1 albums on the Billboard blues chart. Since 2010, when the sisters regrouped as an electric duo, they've released six studio albums, five EPs, and one live set. Each musical installment from the twosome continues to bring fresh songwriting and sonic influences, further intensifying and enlivening their core chicken-fried, boot-stompin', roots-rockin' sound.
On the penultimate day of their first touring leg in support of 2022's Blood Harmony, the sensational Larkin Poe sisters, Megan and Rebecca Lovell, welcomed PG's Chris Kies onstage at Nashville's Brooklyn Bowl to talk tone. Megan shows off her brand-new Beard signature Electro-Liege lap steel and a 1950s Rickenbacker B6, featuring some ingenious engineering that inspired the Liege's unique silhouette. Rebecca explains how she fell for the HSS Stratocaster and why she's finally ready to be in a committed relationship with fuzz. Plus, we find out who's taking who's gear when it comes to the Lovell sisters and their significant others.
Brought to you by D'Addario String Finder.
The Slide Queen's Loyal Subjects
After making the switch to electrified instruments, Megan Lovell has been an avid ambassador of the lap steel guitar. Her first and longest partnership with the instrument is an early 1950s Rickenbacker Electro Model B6 (top). The unusual upper-bout aluminum wing was something Megan created to help keep the instrument's heft off her shoulder and put it in a more comfortable playing position.
As you can see below, the B6 was a big inspiration on Megan's new Beard Guitars Electro-Liege lap steel. The Electro-Liege is built for comfort and speed, with a lightweight poplar body, Jason Lollar Horseshoe pickup, and a shape that was hand-drawn by Megan to emulate the same curves in the homemade body extension she uses for her Rickenbacker.
"Against Megan's will, I have been calling her 'the slide queen' for a long time," Rebecca said to PG in 2022. "I've sorta forced the issue and now she's kinda stuck with it. So, she wanted to make a play on that, so liege is referring to the royalty angle. Megan went into granular detail about this. It was really cool to see these little paper cutouts on cardboard of what it was gonna look like, and hats off to Paul Beard for really taking all of her information and going for it."
The result looks like a futuristic cross between her Rickenbacker and a Dobro. And the Liege carries half the weight of its forefather. "It was really cool that he had the trust to just take all of the measurements from my drawings and just make it," Megan told PG. "It's exactly what I wanted." Both lap steels ride in open-G tuning, she puts Ernie Ball strings on them, and attacks both with Dunlop Zookies thumbpicks.
Stolen Inspiration
"The first electric guitar I ever bought, is my seafoam green Jazzmaster. I got that because we were playing with Elvis Costello, and that was his main guitar and I just thought it was so badass," Rebecca detailed in PG in 2018. However, you won't see any of those instruments in this Rundown. So, how did Rebecca come to love and appreciate the Strat?
Well, she's married to Rig Rundown alumnus Tyler Bryant, who's had a long association with that particular Fender. She snagged one of his Fender Custom Shop 1960s Stratocaster HSS's and took it on tour. She loved its smaller, lighter profile and thicker tone. So, she enlisted the good people at the Fender Custom Shop to build her a clone of Bryant's 1960s copy.
"I love humbuckers," says Rebecca. "It's so beefy, and having toured as a four-piece for so many years, that extra chunk has been helpful."
Rebecca keeps all her electrics in standard tuning, they take Ernie Ball Slinkys (.010–.046), and she hammers against them with Dunlop Tortex .60 mm picks.
(It's worth checking out Bryant's Rundown to hear the story behind his two main "Pinky" Strats that are now immortalized in a Fender signature model.)
A Silvery Stunner
Rebecca's other main Fender is this Custom Shop 1950s "blackguard" Tele that she requested be bedazzled in a silver-sparkle finish.
"This is the most bling thing I own. I'm not a big girly-girl, but come on! I love it because it's spanky as hell," admits Rebecca.
The Stolen Special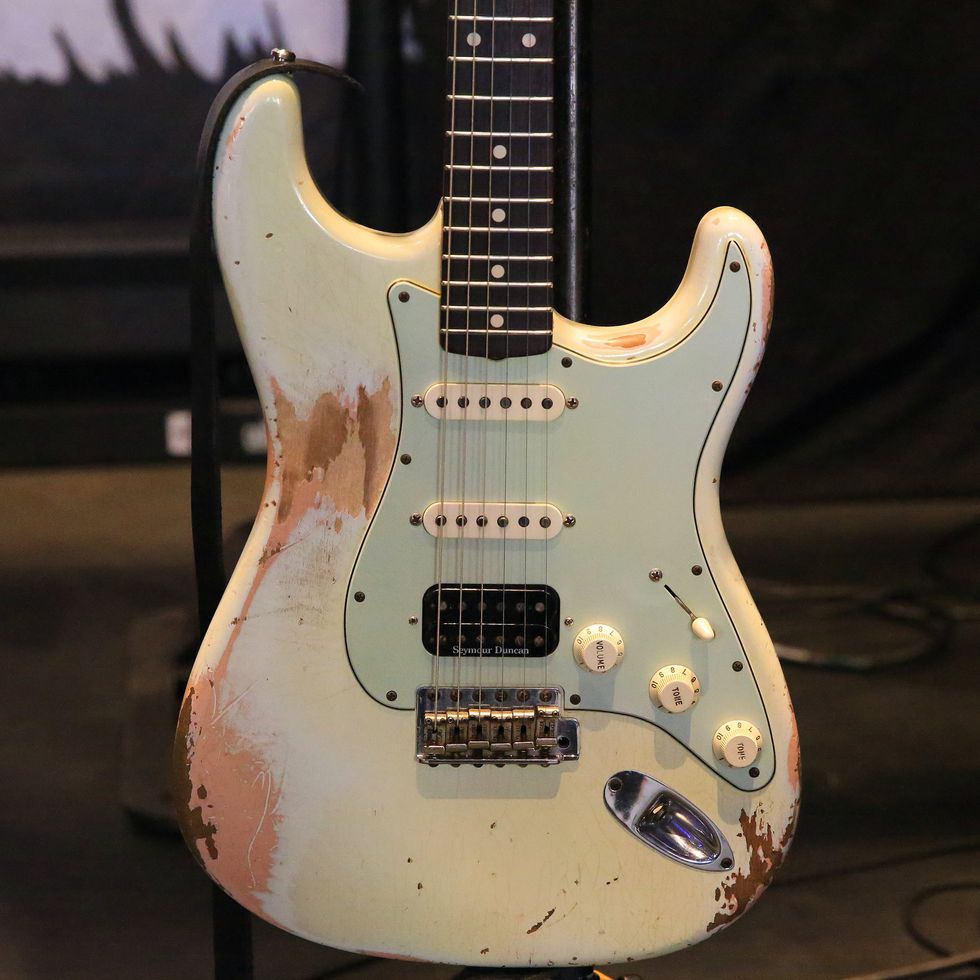 Here's the gateway drug that introduced Rebecca into the specialness of Strats. She still tours with it and keeps it stocked and ready for any backup duties.
Sparkalicious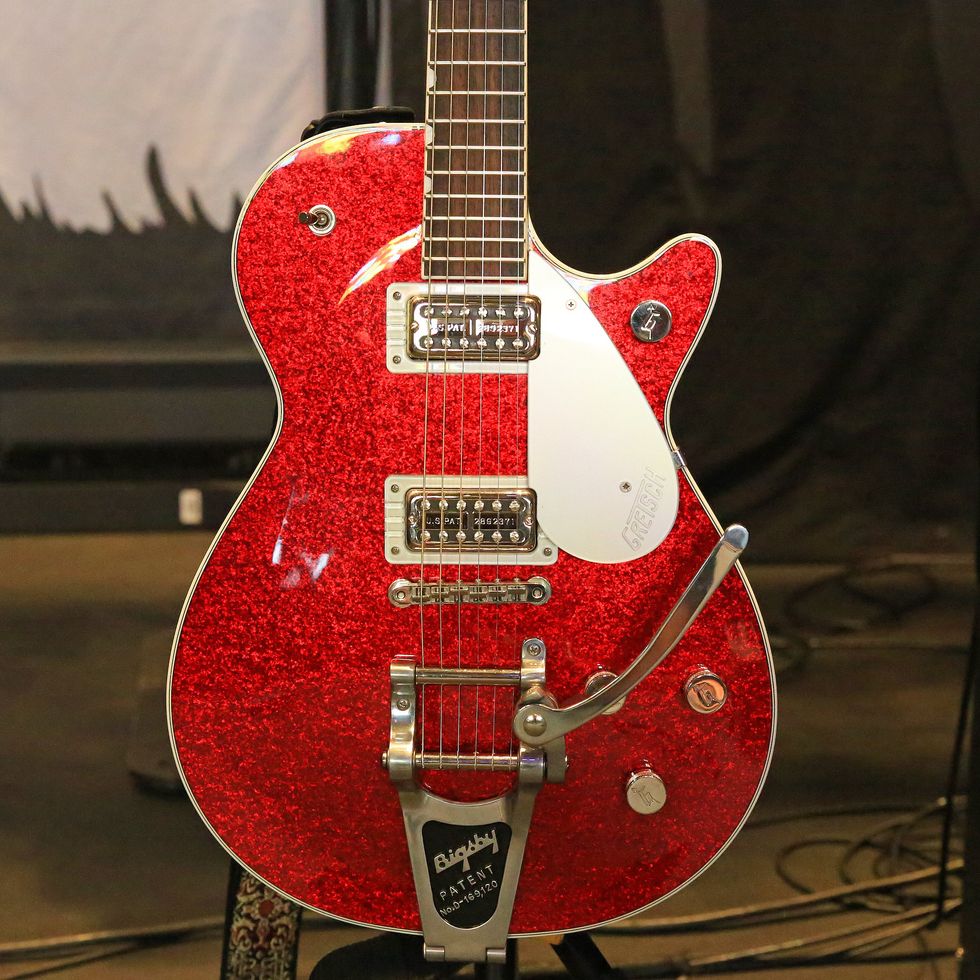 For some added twang and note bending, Rebecca travels with this Gretsch G6129TPE Players Jet FT Electric Guitar with Bigsby.
Double Deluxes
The ladies are vintage small-combo aficionados, but the rigors of the road make traveling with them a nerve-wracking endeavor. Their collective solution is to tour with a couple of Fender '65 Deluxe Reverbs. And both plug into the amp's vibrato circuit.
Double Trouble—Megan Lovell & Rebecca Lovell's Pedalboards
As with their onstage amp choices, the sisters have nearly identical pedalboards. Both rely on a Line 6 HX Effects, a Strymon Iridium, and a Rodenberg Custom Amplification TB Drive. The drive is Tyler Bryant's signature pedal that stacks a pair of TS-style circuits into one box. He had a custom enclosure made for both Megan ("Slide Queen") and Rebecca ("Habibi") that has their respective nicknames on it (top). Megan has an Ernie Ball 40th Anniversary Volume Pedal and Peterson StroboStomp HD Tuner, while Rebecca (bottom) has some added firepower with a Beetronics Royal Jelly and a limited edition MXR Sugar Drive in a "brown sugar" coating. Additionally, Rebecca has a Boss TU-3 Chromatic tuner to keep her guitars in check. Both Lovells have a Strymon Zuma power supply and a Xact Tone Solutions routing box under the hood.