Kelly Slater is a renowned professional American surfer. For his various achievements, Slater is regarded as a surfing legend for winning an incredible 11 World Surf League titles. This record also includes his five consecutive title wins from 1994 to 1998. The GOAT of surfing also owns the record of the youngest (20) and the oldest surfer (39) to win a WSL title.
ADVERTISEMENT
Article continues below this ad
Although surfing is a fun sport, it includes lots of dangers and difficulties. Being aware of one's surroundings is an essential thing in surfing. Slater once reminisced about an unfortunate incident where he missed an opportunity to save someone's life.
ADVERTISEMENT
Article continues below this ad
Kelly Slater recalls an unfortunate incident
Slater is no stranger to accidents and life-threatening situations on the beach. But surfers need to be aware of such dangerous situations and know about their surroundings.
However, sometimes the situation is not under one's control, and Slater learned this early in his career. In May, while chatting about surfing on the Grin Reapers podcast, Slater got candid with the hosts and recalled an unfortunate accident from his past. A 17-year-old Slater had gone to the beach with his friends for some downtime. "I missed one on my home break one day and this guy drowned right in front of me, and I didn't even see it happening. He was underwater, so I didn't hear it," narrated Slater.
Slater's friend, who was on the shore, tried to indicate to the surfer to help the drowning man, but Slater was unable to read his actions. He further added, "He was trying to help his step-daughter, and she lived and he drowned. The waves were like two-three feet, you know that it wasn't big."
Another one of Slater's friends jumped into the ocean to save the man and pulled him out of the water. However, even after some on-the-spot treatment on the shore, the man did not survive. Slater was angry with himself for not noticing the accident occurring right in front of him and letting the man die.
"I was 17 at the time, and remember kicking myself for so long. I was like I would have saved the guy's life without even struggling, like I would have given him my board and I would have swum him up," recalled Slater. It was an unlucky accident, and Slater admitted that surfing isn't always sunny and fun.
How did Slater start surfing?
ADVERTISEMENT
Article continues below this ad
The American surfing legend had first set out to surf at just five years of age. Soon Slater developed a love for the sport and decided to build a professional career in surfing.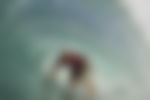 In 1990, Slater began surfing professionally, but the surfer was not off to a good start. However, in a couple of years, he began winning major titles.
ADVERTISEMENT
Article continues below this ad
Watch This Story: Soon-to-be-married Simone Biles goes on a beach vacation with her parents and fiance Jonathan Owens
Slater came into the limelight after winning the Pipeline Masters in Hawaii in 1982, which helped him claim his first world title at just 20. Today, a 50-year-old Slater is still going strong. How long can he continue dominating the sport?