Definitely not one for traditionalists, this thoroughly modern amp and effects suite delivers tight, high-gain tones and stunning three-dimensional effects. A shot in the arm for tired old guitar sounds.
Pros

+

Amazing shimmer, synth, and glitch sounds for your guitar

+

Easy to dial in unique yet usable sounds

+

Great selection of high-gain tones
Cons

–

Not for traditional tone lovers

–

Takes time to load in your DAW
Why you can trust Guitar World
Our expert reviewers spend hours testing and comparing products and services so you can choose the best for you. Find out more about how we test.
Just the mere mention of 'epic soundscapes' is enough to perk up this reviewer's ears, so when Positive Grid's OMNYSS announced its intention to affect our guitar tone in a 'sonically disruptive' way, our curiosity was naturally piqued.
At a glance

Price: $99
Type: Amp and effects modeling software
Amp models: 3 – two high gain, one clean
Cab models: 3 – three matched 4×12 cabs
Effects: 6 – Gate, Compressor, Pitch Shifter, Overdrive, Reverb, Delay
Compatibility: PC/Mac
Buy from Positive Grid (opens in new tab)
Doing away with vintage gear recreations – you won't find any JCMs or Tube Screamers here – OMNYSS places the sci-fi sounds of the future firmly in its focus. With three brand new amp models and matching cabs alongside six innovative stompboxes, this latest offering looks to cater to the modern guitar player, favoring tight, high gain tones over vintage tube amp recreations and unapologetically digital effects in lieu of your average analog stompbox model.
It's all powered by Positive Grid's BIAS FX 2 platform, coming with the LE version of PG's super amp simulation software. The OMNYSS suite of effects runs inside BIAS FX 2, so alongside all the kooky effects, you also get some quality classic amp and stompbox emulations to throw into the mix.
Positive Grid OMNYSS review: Features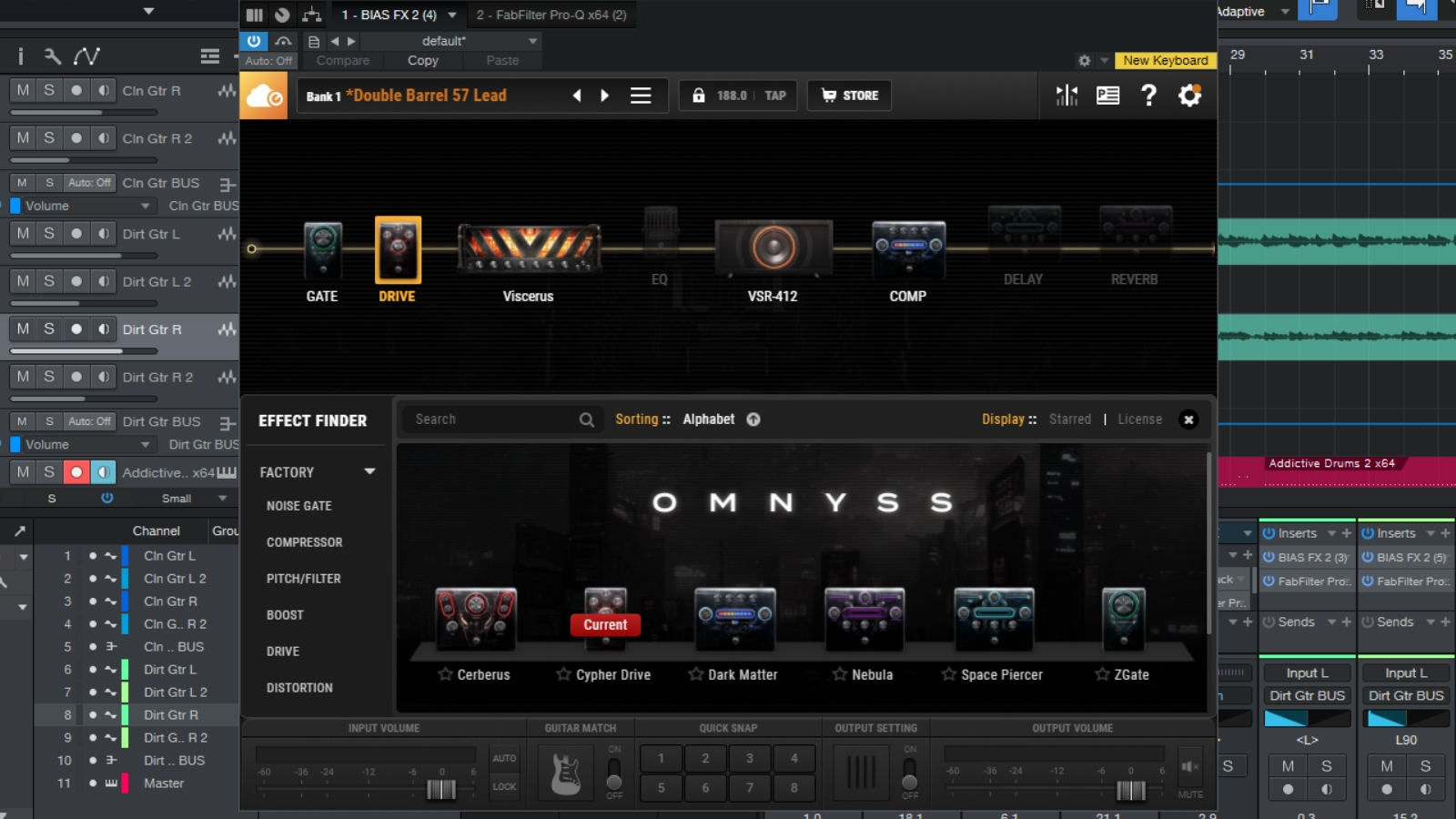 Despite only consisting of three amp types and six effects, there's a massive amount of tonal depth on offer here. In fact, there are so many knobs and sliders to tweak that we couldn't possibly hope to cover them all within the constraints of this review – but we've certainly got enough time to discuss all the major talking points.
The three amp heads feature a definite bias towards high gain models, with both the Aggralith and Viscerus models providing huge, high gain tones that are perfect for more extreme styles of metal, djent, and anything heavy and dark. There is also a modern clean amp too, in the form of the pristine looking – and ominously titled – Etheria. Interestingly each amp head also has its own built-in synth effect, adding to your palette of tones with some unique-sounding, flanger-esque histrionics.
Every amp head comes with its own matched 4×12 cabinet, all of which can be multi-mic'd with different microphones and panned for some super stereo tones. If you already own any Positive Grid products you can mix and match the OMNYSS models with any of the standard cabinets too, opening up the gateway for adding some Celestions to the mix or just dialing things back a bit with a 1×12 cab.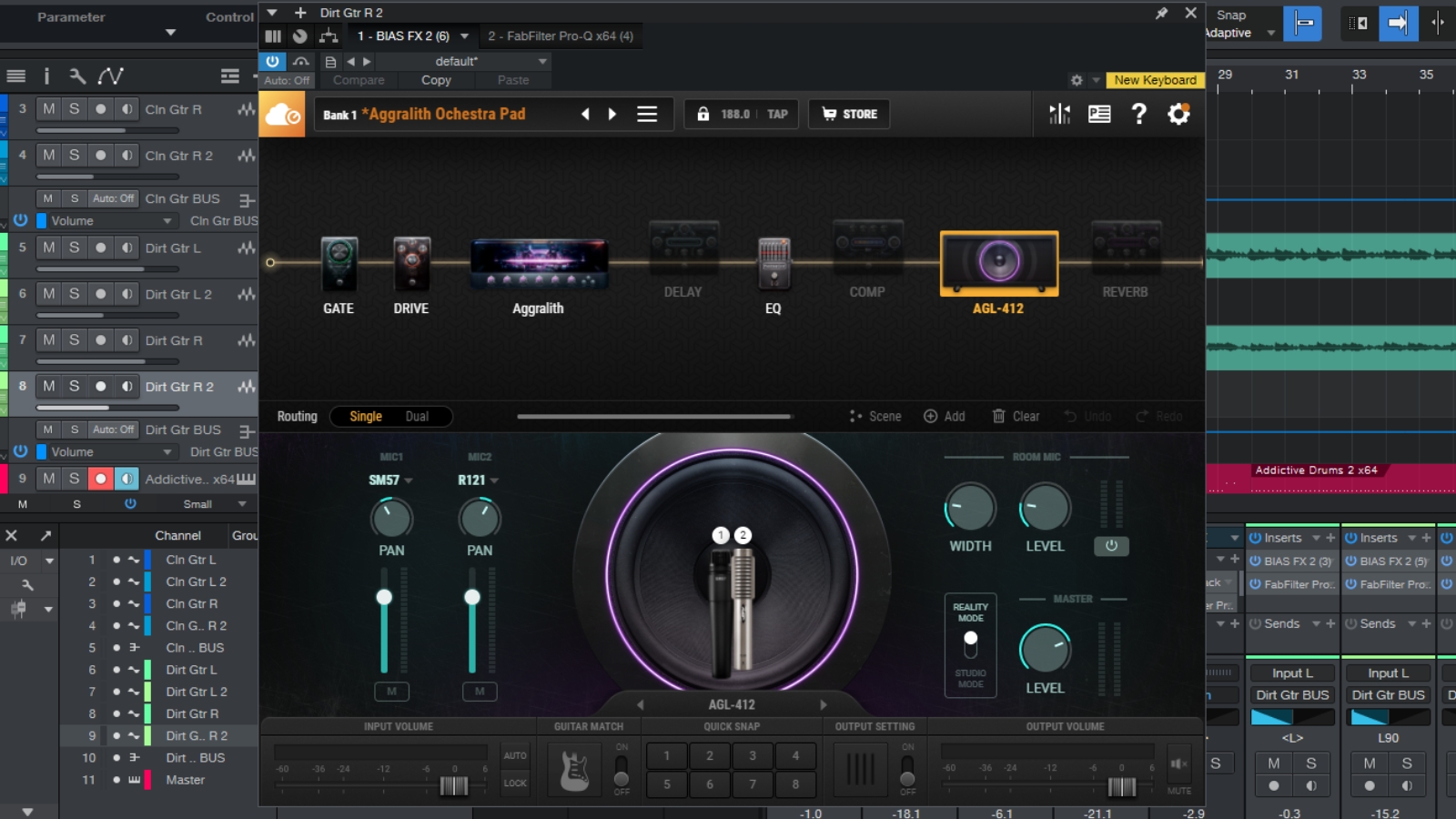 The suite of effects features a lineup that is fairly standard in terms of pedal genre, but with a feature set that is unlike anything but the most esoteric stompboxes out there. Cerberus is a dual-octave stompbox with a drop-tuned setting for adding a touch of weirdness to your tones. Think of it as a Whammy DT for your DAW. Cypher Drive gives you five different flavors of overdrive, making it a versatile addition to your tone locker.
The Dark Matter compressor is probably the least left-field of the effects here but does feature a handy numerical readout on the ratio dial, so you can see if you're compressing 1:4 or otherwise. There's also the ZGate that will be a necessity for those who want to keep those chopped glitch effects under control and high-gain chugs super tight.
Moving into modulation and time-based effects, you get the Nebula reverb, which features some wild chorus and shimmer-type reverb tails and plenty of flexibility in sculpting tones. The Space Piercer delay pedal also delivers some properly crazy sounds, with switchable delay glitch effects and its own, unique shimmer delay sound. 
Positive Grid OMNYSS review: Performance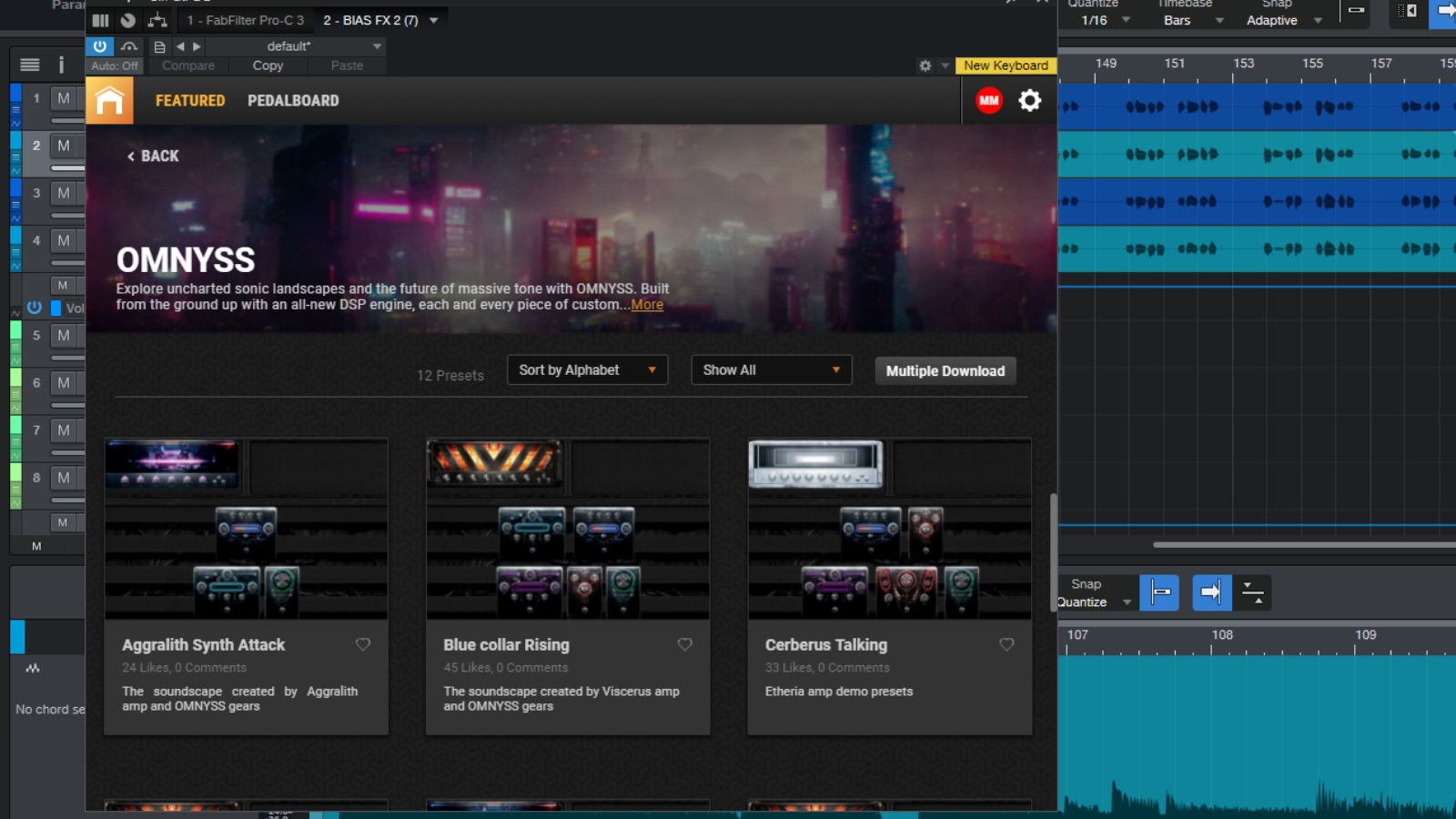 After some initial back and forth getting everything installed and set up (top tip: activate in your DAW first before you try and use it standalone!) we're ready to rock, using OMNYSS in our copy of Studio One 6 to attempt to add some spice to our latest round of new year guitar demos.
We start off downloading from the user preset bank, finding varying tones from high-gain chugs to infinitely sustaining otherworldly synth drones. It's easy enough to assign a bunch of presets to a bank and get playing, but the user presets are of varying quality – there are a few gems in there, but there are some that are pretty much unusable in the context of a mix. The majority of this comes down to judicious scooping of the mids via the EQ pedal – easily bypassed via the off switch – as well as many presets having the mix knob of the amp's onboard synth effect dialed way too high.
Adding a preset to a pre-recorded baritone guitar track offers up a delicious slab of high-gain riffing, thoroughly modern in voice with plenty of flexibility to be found in tweaking the EQ knobs. It's easy enough to get it sitting nicely in the mix, dialling back the low end and adding some more mids to get it to play nice with the bass guitar. Layering these tones alongside more traditional amp sounds massively increases the heft and force of the song, taking a fledgling guitar demo straight to stink-face-inducing, wall of sound territory.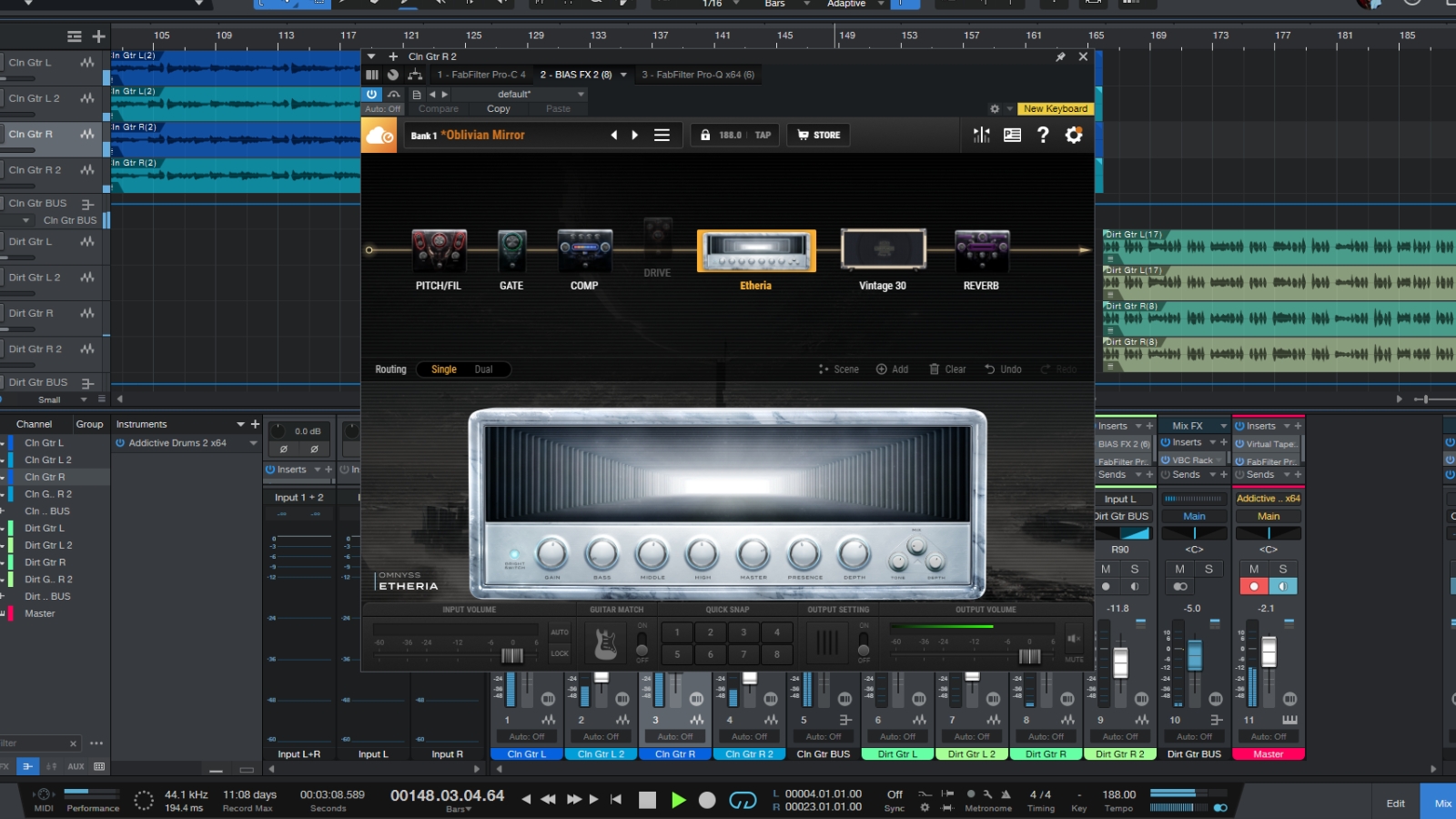 Putting the presets to one side, just how easy is it to create your own tone from scratch? Using the handy clear button we get rid of everything, adding the clean Etheria amp in to see if we can boost the sense of space in a hybrid picked clean passage. Adding in the Space Piercer delay pedal, we dial in a mix of glitch and shimmer delay tails to run just underneath our base clean tone, adding a sense of space and wonder that undulates beneath our moody riffing.
Combining it with the Nebula reverb soon has us spiralling through the wormhole of tone, giving an overpowering shudder of sound that's thicker than a McDonald's milkshake. Using our stock EQ plugin we cut out the majority of the low end, adding some much-needed clarity to our clean tone. It's phenomenal stuff and as an intrepid tone tripper, right up our street when it comes to delivering on OMNYSS' promise of otherworldly tones and epic soundscapes.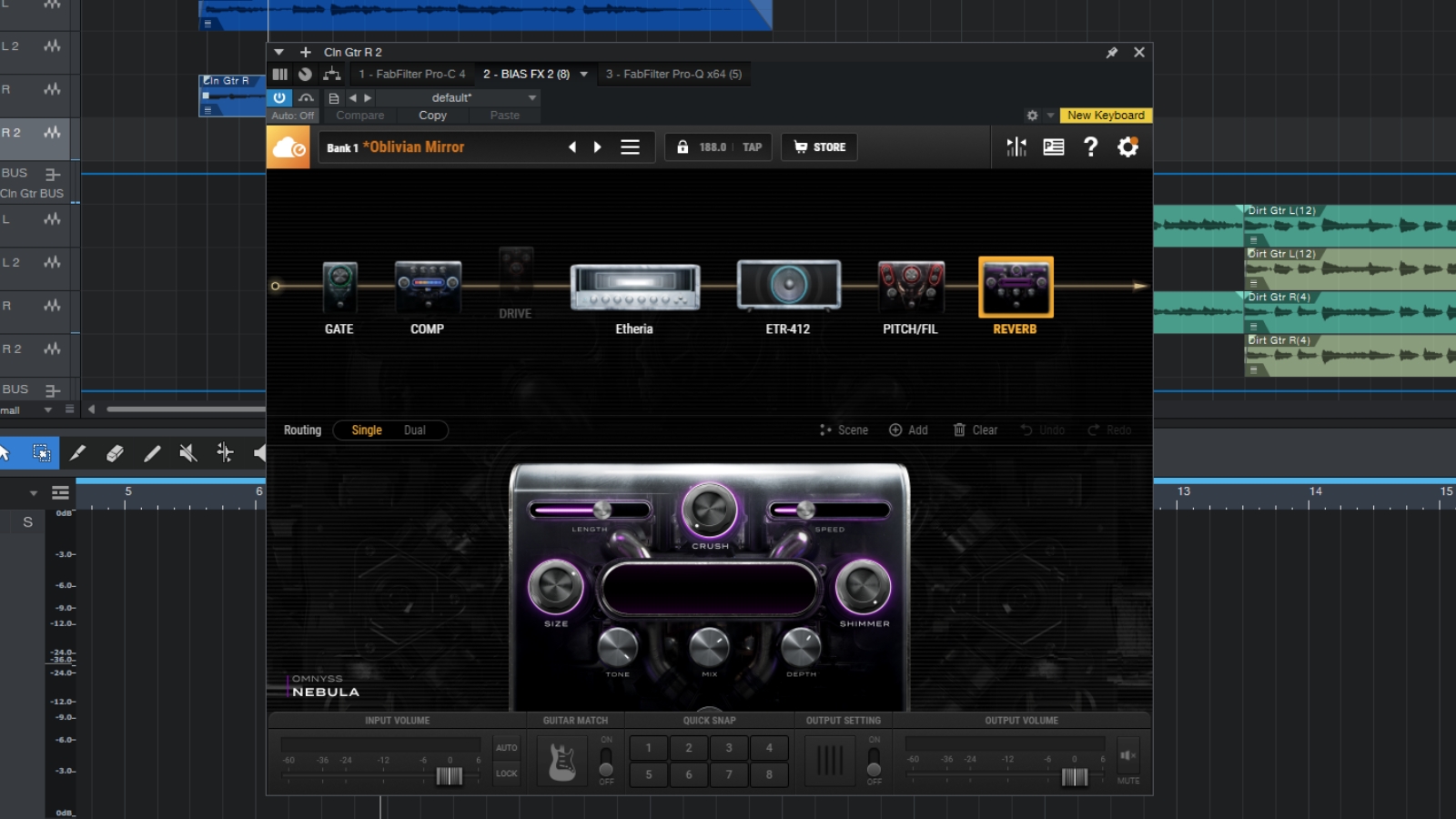 It's clear that this is one for the tone tweakers, so you'll need to be prepared to go back and forth to sculpt your perfect sound, which is also where we run into one of the few snags with this awesome bit of software. Every time you load a plugin it presumably needs to connect to a server, as you'll have to wait a few seconds before you can edit your settings. This makes things a little frustrating in the mix phase, where incremental changes can have a big effect on the overall sound and it's helpful to be able to move between tracks and adjust quickly. 
That said, this could be an issue purely to do with our own internet speed, DAW, or some kind of resource-saving measure – but it's the only plugin we've come across where this happens. It's a small niggle considering the vast array of tones on offer here and the ease of use in creating your own preset in the first place, soon forgotten in the joy of hearing our basic guitar track get a new lease of life.
OMNYSS isn't just for guitar either, we added some of the amp tones and effects to our VST synth sounds for extra warmth and depth, transforming a tried and tested sound into something far more intriguing. We even went as far as adding some of the Space Piercer delay effects to a snare drum track, automating some extra pizazz to a sparse middle 8 section; proof of OMNYSS' ability to inspire unconventionality in your compositions. 
Positive Grid OMNYSS review: Conclusion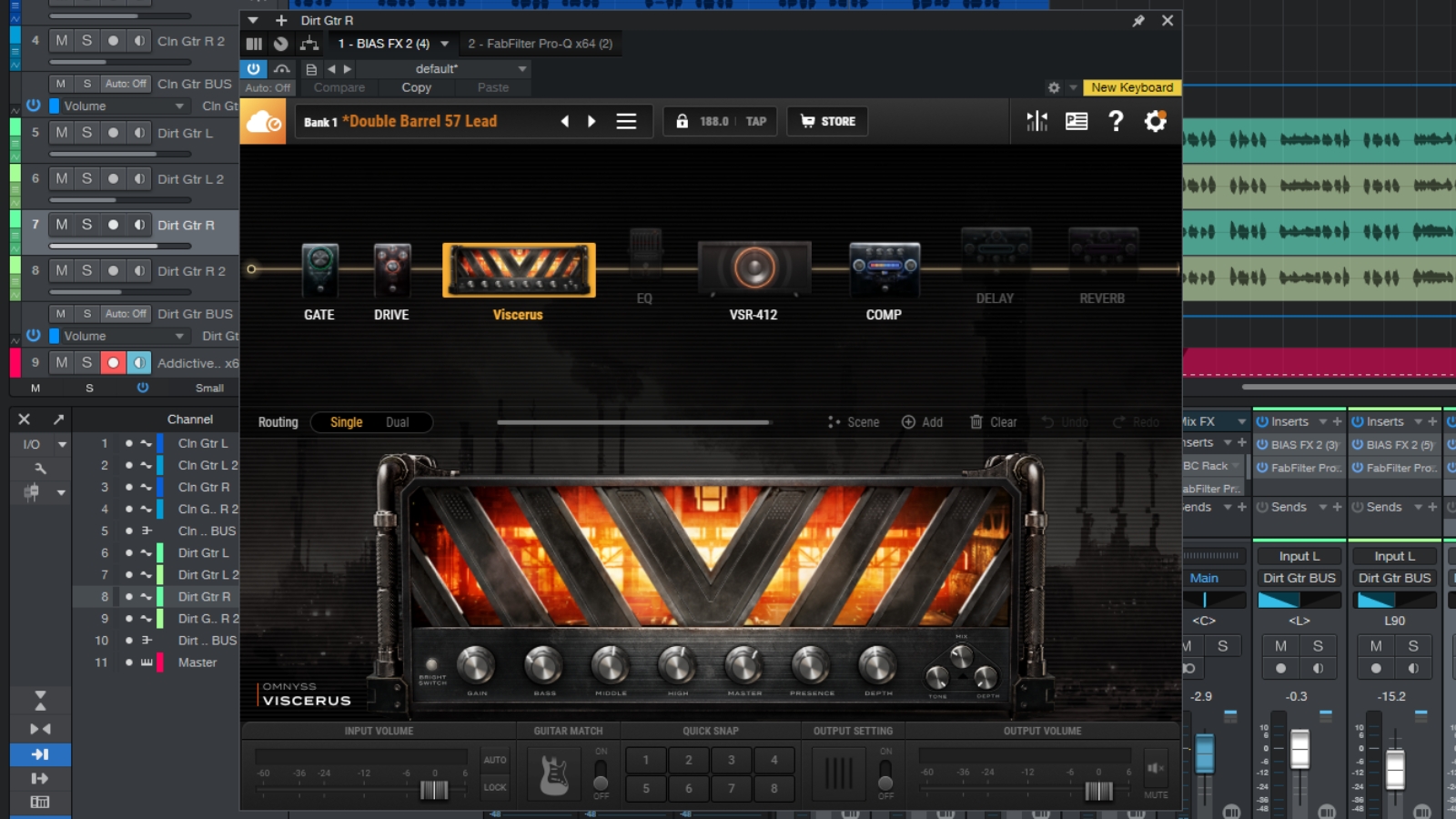 It certainly won't please the traditionalists, but for pure sound exploration and supernatural sounds, Positive Grid's OMNYSS is a step up for your music-making game. If you're tired of yet another Klon recreation or vintage tube amp reissue, OMNYSS is just the antidote for the forward-thinking guitar player.
Positive Grid OMNYSS review: Specification
Price: $99
Type: Amp and effects modeling software
Amp models: 3 – two high gain, one clean
Cab models: 3 – three matched 4×12 cabs
Effects: 6 – Gate, Compressor, Pitch Shifter, Overdrive, Reverb, Delay
Compatibility: PC/Mac
Contact/Buy: Positive Grid

(opens in new tab)
Thank you for reading 5 articles this month*
Join now for unlimited access
US pricing $3.99 per month or $39.00 per year
UK pricing £2.99 per month or £29.00 per year 
Europe pricing €3.49 per month or €34.00 per year
*Read 5 free articles per month without a subscription
Join now for unlimited access
Prices from £2.99/$3.99/€3.49