Going by their current form, Patrick Mahomes and the Kansas City Chiefs are cruising on to another conference championship and a probable Super Bowl. And Travis Kelce has emerged as one of the most pivotal pieces of the Kansas offense. Mahomes and Kelce have formed one of the greatest quarterback-TE on-field relationships. However, this chemistry stems from their off-field bromance.
ADVERTISEMENT
Article continues below this ad
Patrick Mahomes was the latest guest on the 'New Heights' podcast hosted by Travis and his brother, Jason Kelce. The elder Kelce brother asked the Chiefs QB about his chemistry with his tight end. And before Mahomes could speak about Kelce's splendid form this season, he had an interesting anecdote from his early years at Kansas.
ADVERTISEMENT
Article continues below this ad
READ MORE: "We Didn't Know if It Was a Girl or Boy at First…": Patrick Mahomes Reveals the Story Behind Naming His New Born Kid "Bronze"
33-year-old Travis Kelce has been in the NFL for 10 years after Kansas City Chiefs drafted him in 2013. He missed his entire rookie season but became an integral piece of the Chiefs' offense in the following years. And things completely changed for Kelce when he met young Pat Mahomes after his arrival in 2017. Or it could have been the other way around. Travis Kelce has made a space for him in the history books after recently surpassing Rob Gronkowski with his 33rd 100-yard game as a tight end.
Patrick Mahomes and Travis Kelce bond
ADVERTISEMENT
Article continues below this ad
Patrick Mahomes joined the Chiefs and quickly rose to the ranks of greatness. The Warrior Chief became the quickest quarterback to reach 5000,10000 and 15000 passing yards. Mahomes was also the fastest to reach 100 touchdown passes in the history of the league. Even after Tyreek Hill left for the Miami Dolphins this off-season, Mahomes and Kelce have managed just fine. However, things were not that easy when he started.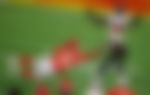 Answering Philadelphia Eagles center Jason Kelce's question, Patrick Mahomes recounted one particular incident. It all went down when rookie Mahomes decided to go out one night with his other rookie teammates, and he ran into "old Travis Kelce." Before coming out, Mahomes, like a diligent rookie, took all the necessary precautions. "I set like 8 alarms on my phone," Pat said. However, Travis Kelce and Pat Mahomes had a night to remember. And by the time Mahomes returned home, his phone didn't have enough battery to survive till morning.
ADVERTISEMENT
Article continues below this ad
WATCH THIS STORY: Proud parents Patrick and Brittany Mahomes welcome baby boy Bronze to happy Kansas family
The Chiefs were concerned when their future Super Bowl MVP QB was late the next morning. And to Patrick Mahomes' surprise, the very first question he was asked on arrival by the staff was, "Were you with Travis?" Travis already maintained a reputation and when he was called for the same "were you with Pat last night" question, Kelce knew he had finally found his QB. "My Dog! Man I'm not alone," Travis remembers saying.