Words printed on T-shirts worn by locals offered a welcoming note shortly after my wife, Fyllis, and I arrived on the Caribbean island of St. Lucia: "Be happy." "Forget your troubles." "Don't worry, just party." On the other hand, the sticker attached to the bumper of an automobile offered a warning about the challenge awaiting us when we drove our rented car. More about that later.
Many people visit St. Lucia for its beaches, which present something-for-everyone variety. Stretches of soft sand follow gently curving seashores that overlook sweeping bays and the small slivers that residents of the island favor. The sea ranges in color from light green to turquoise to deep blue.
Fyllis and I made Vigie Beach our go-to respite. It is lined by palm and almond trees that provide welcome shade. Several modest snack bars offer food, beverages and opportunities to meet and mingle with St. Lucians.
Our two-week stay provided time for us to come into contact with island residents, to delve into the "real" St. Lucia and to discover why some 1.3 million people— about seven times the number who live there—visit each year.
For starters, beaches provide a backdrop for the lush landscape that blankets the island and contributes to making it a tropical paradise. Greenery lines roadsides and covers ridges that rise into sheer cliffs and mountains that fill the interior. A profusion of flowers transforms the setting into a natural botanical garden, and photogenic waterfalls add to the picture-perfect scene.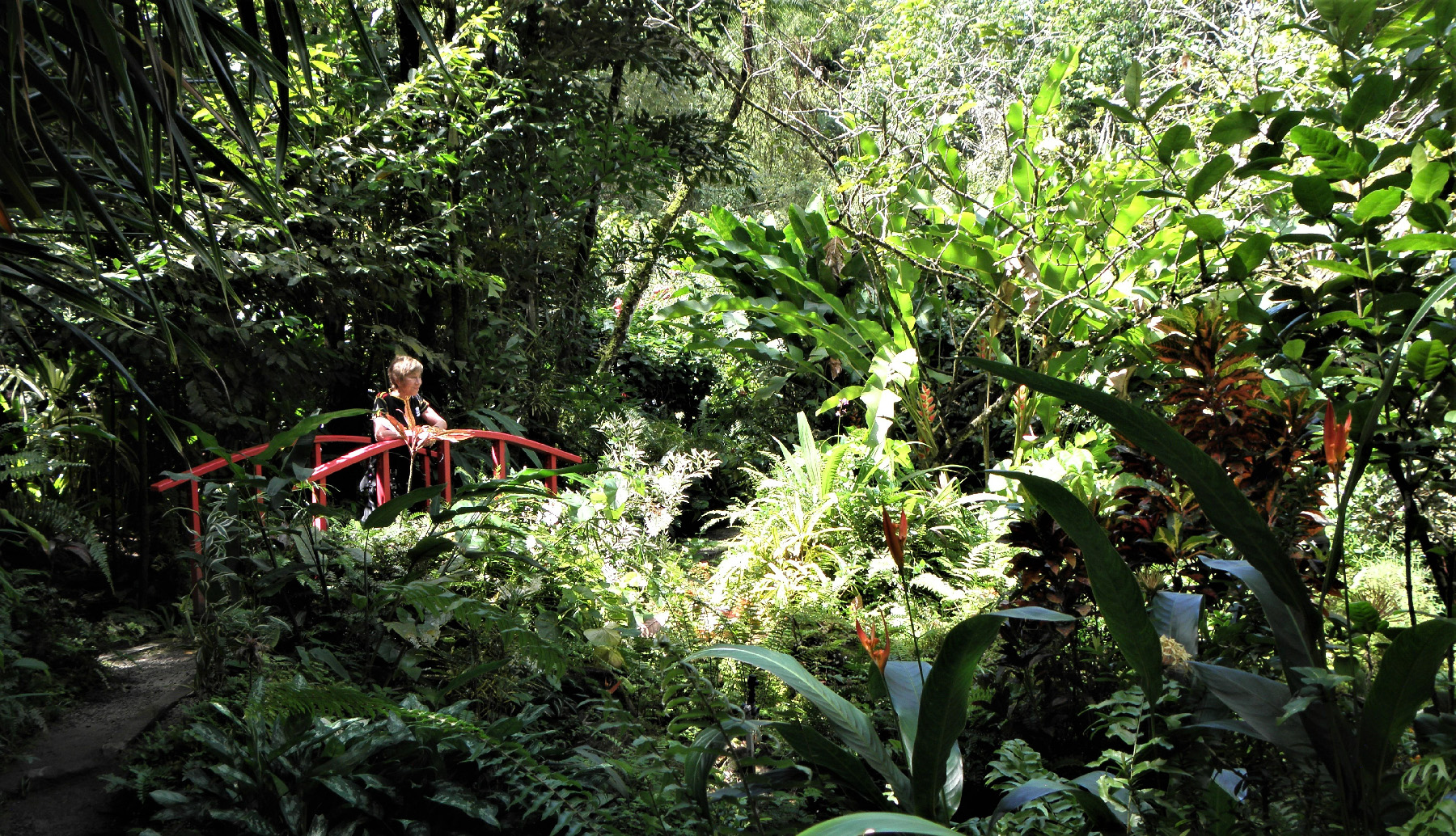 Towering over it all are the twin Gros and Petit Pitons, pointed volcanic spires that overlook the rugged terrain. While it's possible to climb to the peak of the Pitons, an experience we quickly agreed to skip, we discovered that driving on what passes for roads in St. Lucia presents other challenges.
Great Britain has held sway over St. Lucia since 1814, after control switched between England and France 14 times. That being the case, automobile steering wheels are on the right side and cars drive in the narrow left lanes. Picture yourself navigating a vehicle along a roller coaster track, multiply the number of twists and turns by three, add potholes large enough to swallow an army tank and you have an idea of what it's like to maneuver through island traffic.
Frequent "hairpin turn" signs are an understatement. Adding to the test is the occasional tailgater who speeds on by as if he were racing at Le Mans. As one hot-rodder zipped past our car, I was able to make out the intimidating message on his bumper sticker before he sped around the next curve: "No gears, no fears."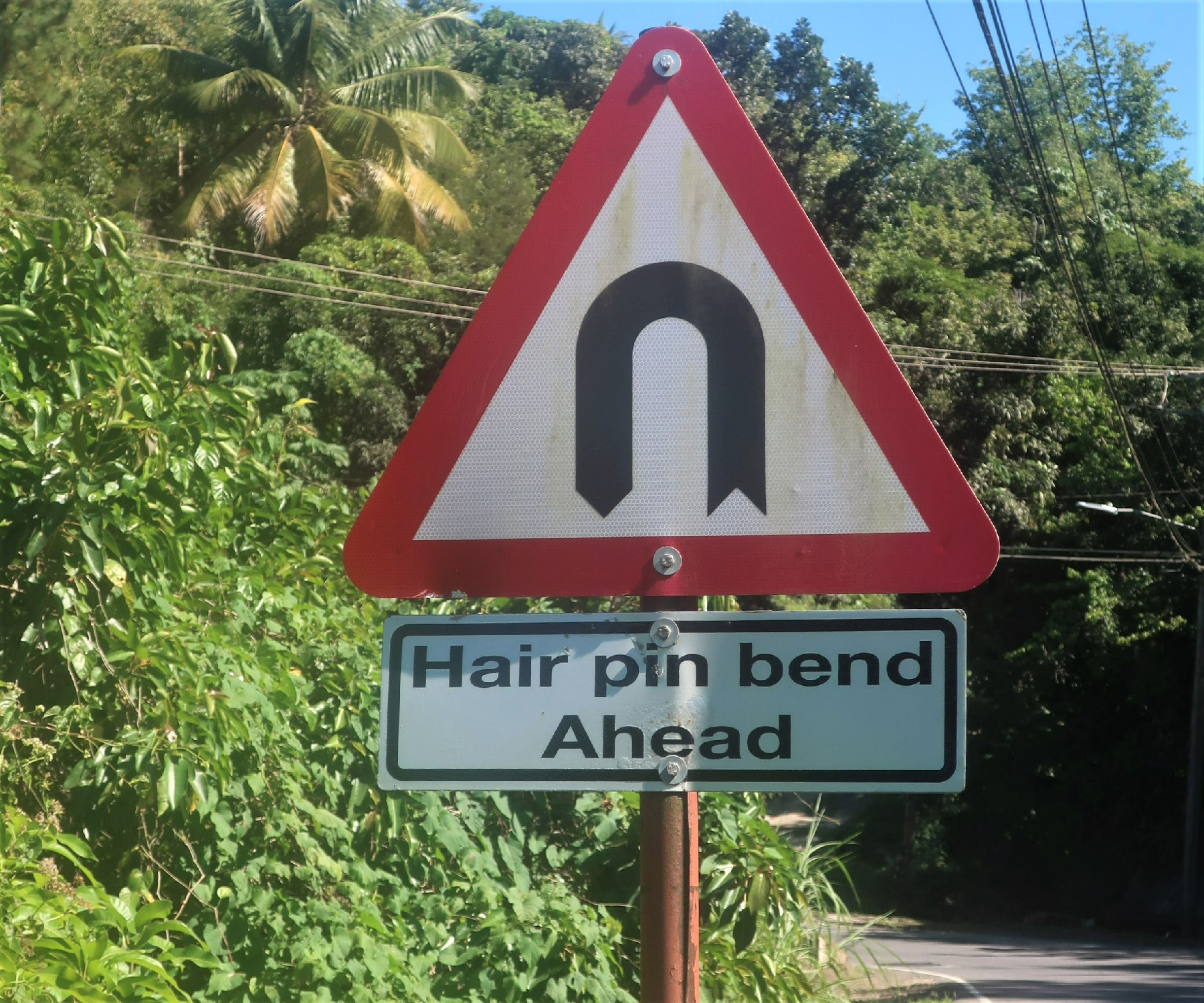 When Fyllis and I were able to catch our collective breath, we enjoyed driving to various destinations around the island. First on our agenda were the tiny towns, consisting of colorfully painted houses fronting the sea, each village with its own attractions and personality.
Castries, the capital, is the hub of economic activity. Its port berths both passenger cruise liners and hulking cargo ships. The weekly market there is a popular destination event, a lively bazaar where vendors sell everything from spices, soaps and souvenirs to homegrown produce and homespun clothing.
Soufriere is home to Sulphur Springs, a collapsed volcanic crater where people willing to put up with the pungent scent may take soothing mineral-rich mud baths that are touted as beneficial for the skin. The town is also blessed with stunning beaches and plummeting waterfalls.
Anse la Raye is one of a number of small fishing villages of pastel-hued bungalows, brightly painted boats and men cleaning their catch and mending nets.
Other places relate serious chapters of St. Lucia's history. The British built Fort Rodney in 1780, when they were vying with France for control of the island. Barracks, bunkers and the remains of the commander's residence are among reminders of that time.
The French established a military presence on Morne Fortune, an imposing mountain that looms over Castries. Later the British claimed the position and established fortifications, gun emplacements and other military structures that are scattered about the area.
A personal favorite was Marigot Bay, a deep inlet surrounded on three sides by steep, forested hills. The novelist James Michener called it "The most beautiful bay in the Caribbean." The French and British battled for control of the bay that today serves as a docking place for boats ranging from small outboard motor craft to massive super-yachts.
A different kind of vessel provided transportation for a water-borne island tour that introduced Fyllis and me to a diverse sampling of places and pursuits. Given the name, it wasn't surprising that a festive feel manifested itself shortly after our Spirit of Carnival Party Cruises catamaran left the dock. Passengers sipped and supped, danced to piped music and admired and photographed the superb scenery the boat passed.
It's fitting that a visit to St. Lucia includes a water outing, along with experiencing its natural attributes, intriguing history and other appeals. As one guidebook puts it, the island has been "blessed by nature" and offers "geographic and cultural riches enough to embarrass far bigger nations."
When You Go
For more information: www.stlucia.org