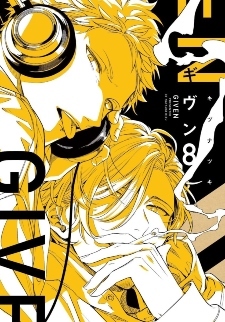 Magazine Cheri+ announced in the March issue on Monday that Natsuki Kizu's Given manga is ending with the next chapter in the May issue on March 30.
Kizu began serializing the boys love music manga in the bimonthly Cheri+ magazine in April 2013. Shinshokan published the eighth volume on October 3. VIZ Media licensed the manga in English under their SuBLime imprint in August 2019 and shipped the seventh volume on January 10.
Lerche adapted the manga into an 11-episode television anime, which aired in Summer 2019. A sequel movie opened in Japanese theaters in August 2020, followed by an original video animation episode released in December 2021. Crunchyroll simulcast the anime series, movie, and OVA with subtitles in multiple languages and an English dub for the television series.
The manga also received a stage play in November 2021, after a delay from its initial scheduled run of August to September 2020 due to the COVID-19, and a six-episode live-action drama series in May 2021.
Synopsis
There is a tune stuck in Mafuyu Satou's head. As he clutches the guitar in his hands, this melody swirls around and around, screaming words of regret, longing, and loss. But with his careless expression that always seems to be up in the clouds, no one knows his true feelings. However, a chance encounter with classmate Ritsuka Uenoyama may finally give Mafuyu the push to let his voice be heard.
Uenoyama is the guitarist of a band, whose fellow members include the kindhearted bassist Haruki Nakayama and rough-looking drummer Akihiko Kaji. Even without a vocalist, their ragtag group has done well as an instrumental-only band. However, their chance to reach even greater heights may have arrived when Uenoyama hears Mafuyu's voice—Uenoyama is enchanted, inviting the reluctant Mafuyu to join.
Working in a band is a difficult task; often, emotions threaten to break it apart, but they can also bring its members closer together. With Uenoyama's help, Mafuyu may finally be able to express the feelings that fight to break free from within his heart. [Written by MAL Rewrite]
Source: Comic Natalie