Relationship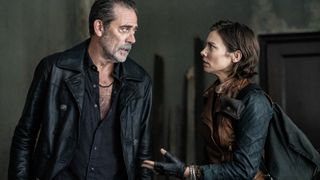 (Image credit: AMC/Peter Kramer)

Negan may have reverted back to his baddie ways when we meet him again in The Walking Dead: Dead City, but he's set to meet his match when it comes to the spin-off's actual villain The Croat. Turns out, the character, played by Željko Ivanek has a history with Negan, and is even more ruthless than the charismatic baseball bat enthusiast
"He is an underling of Negan's from back in the day," actor Jeffrey Dean Morgan revealed in a new interview with Entertainment Weekly. "But he has taken the evil to places where not even Negan in his heyday has gone."
Morgan didn't clarify as to whether The Croat was a former member of Negan's group the Saviors, or whether he knew him before he even met Rick Grimes and the gang. Whenever they first ran into each other, though, The Croat has certainly been influenced by their violent past.
"Negan has born this monster in Željko's character, and he's got [new character Perlie] Armstrong on his six, and then he is dealing with Maggie, who probably wants to kill him about 93 percent of the time. So, you know, he's in a tough spot when the series kicks off," laughs Morgan.
"[Maggie] kind of blackmails him into helping," he adds. "She knows that he's a wanted man, so she's like, 'Look, I can help you get away. They're on your tail and we can get out of here. You help me save Hershel, and then I won't turn you in.' So it's maybe not starting off on the greatest foot."
Described as a miniseries by showrunner Eli Jorné, who's best known for writing and producing The Walking Dead, the new series consist of six episodes. Gaius Charles, Karina Ortiz, Mahina Napoleon, Jonathan Higginbotham, Caleb Reese Paul, Charlie Solis, Aixa Kendrick, Eleanor Reissa, and Michael Anthony make up some of the supporting cast. Randy Gonzalez, David Chen, John Wu, Alex Huynh, Alex Borlo, and Trey Santiago-Hudson also star.
The Walking Dead: Dead City premieres on June 18 on AMC and AMC+ in the US. Dive into the zombie apocalypse with our how to watch The Walking Dead guide, or our breakdown of The Walking Dead ending. For more, check out our list of the best new TV shows coming in 2023 and beyond.