Jacksonville looks to pull off a major upset in Kansas City on Saturday

The Kansas City Chiefs lead the Jacksonville Jaguars 17-10 at halftime of their AFC divisional round game, and suffered a scare along the way.
Quarterback Patrick Mahomes, who began the game 12 of 15 for 84 yards and a touchdown, left with an ankle injury he suffered when he was rolled up on from behind by Jaguars defensive lineman Arden Key. Mahomes at first stayed in the game while noticeably limping, but after finishing out the drive on which the injury occurred, he was sent to the locker room for further evaluation. 
He was able to return to start the second half.
Backup Chad Henne filled in, leading a 12-play, 98-yard touchdown drive. Meanwhile, the Chiefs declared Mahomes questionable to return to the game. Each of the scores went to tight end Travis Kelce, who put up a monster first-half stat line: 10 catches for 55 yards and two touchdowns. 
Meanwhile, Kansas City's defense did a good job of holding Trevor Lawrence and Co. in check. Jacksonville's lone touchdown drive in the first half came on a short field after Jamal Agnew returned a kickoff 63 yards to the Kansas City 39-yard line. A big run by Travis Etienne set up a beautiful touchdown toss from Lawrence to Christian Kirk, but the Jags managed only a field goal on their other three drives, two of which ended in punts. 
So, can the Chiefs hang on or will the Jags stage a comeback? We're about to find out. In the meantime, keep it locked to our live blog throughout the evening as we update you with stats, scores, and highlights. 
How to watch
Date: Saturday, Jan. 21 | Time: 4:30 p.m. ET
Location: GEHA Field at Arrowhead Stadium (Kansas City, Missouri)
TV: NBC | Stream: fuboTV (try for free)  
Follow: CBS Sports App 
Odds: Chiefs -9, O/U 53 (courtesy of Caesars Sportsbook)
See New Posts
Pinned
Mahomes tried to throw to MVS on the wide side of the field on consecutive plays, and on both plays the throw was a little bit short. Either way that play was not going to count because JuJu was called for offensive pass interference on the pick play.
Pinned
Again, the Jaguars were the worst team in the NFL at defending tight ends this season. Gerald Everett and Donald Parham tore them up last week. Kelce is going off tonight, and they just left Noah Gray wide the heck open right there.
Pinned
Lawrence had Kirk open on an out-breaker but looked like he short-armed the throw. And Kirk slipped on his release and during the route stem. 
Pinned
Evan Engram has been having some huge games of late, but he's only at 3 catches for 18 yards right now. Big catch on third down there, though.
Pinned
Chiefs' first three-and-out of the night. Their second straight punt after not punting at all in the first half. 
Pinned
It looks like one of the officials was going to mark Noah Gray short of the line and the other one was going to give him the first down. The spotter was the guy marking it short. So, the challenge failed AND the Chiefs failed on third down. Yikes.
Pinned
By the way, Pacheco ranked 42nd out of 47 players with at least 100 carries this season in avoided tackle rate during the regular season, according to Tru Media. But he's already made a couple nice plays to break tackles and gain extra yards tonight.
Pinned
I think the Chiefs might win this challenge, but it's an incredibly low-value decision from Andy Reid. It's third-and-inches, and even if you win the challenge, it's still only first-and-10 from your own 30-yard line. And the downside is you lose a timeout in a very close game.
Pinned
Etienne has run it pretty well even outside of the one long carry he had in the first quarter. But Lawrence is now averaging south of 5 yards per attempt and was almost picked for the second time tonight after the Jags blew a protection up front.
Pinned
Mahomes looked a little skittish in the pocket on second down and then threw a little bit high for Kelce on third down, and the Jags force a punt. Lawrence will have a chance to tie the game on this next drive.
Pinned
It's been all Kelce in the passing game so far for KC: He has 11 catches and the rest of the team has combined for 7 catches.
Pinned
Mahomes has his helmet on and Henne does not, which seems like a sign that Mahomes will return. Reports circulating that X-rays on his ankle were negative but he has a high-ankle sprain. 
Pinned
Pinned
HALFTIME IN KANSAS CITY: Jaguars 10, Chiefs 17
First downs: JAX 8 KC 15
Third downs: JAX 2-5 KC 5-6
Total yards: JAX 143 KC 203
Penalties: JAX 3-30 KC 1-5
TOP: JAX 11:33 KC 18:27
Trevor Lawrence: 10/15 80 yards 1 TD
Patrick Mahomes: 12/15 84 yards 1 TD
Chad Henne: 5/7 23 yards 1 TD
Travis Etienne: 5 carries for 35 yards
JaMycal Hasty: 2 carries for 27 yards
Isaiah Pacheco: 7 carries for 78 yards
Christian Kirk: 5 catches for 43 yards and 1 TD
Travis Kelce: 10 catches for 55 yards and 2 TDs
Pinned
Riley Patterson's 41-yard field goal pulls the Jags within 17-10. Unless Mahomes comes out for this Kansas City drive, I'd think that's the score with which we will head into halftime. 
Pinned
Kirk is getting some heavy usage here in the first half. 5 catches for 43 yards and a score on 8 targets. Should have had a lot more than this if not for the drop.
Pinned
Kirk just ran right across the face of slot corner L'Jarius Sneed on that one and came away with a third-down conversion. Sneed has to make that more difficult on him.
Pinned
OH MY GOD. Christian Kirk absolutely wide open behind the Kansas City defense for what should have been a 64-yard touchdown but he just dropped the ball. Throw was maybe JUST a bit too long, but Kirk got both hands on it.
Pinned
Pinned
What a drive for Chad Henne and the Chiefs: 12 plays, 98 yards, and a touchdown. Henne went 5 of 7 for 23 yards and the score, a 1-yard toss to Kelce.
Pinned
Pacheco is up to 7 carries for 78 yards now. Of course, half of those came on that 39-yard run.
Pinned
What a run by Pacheco! Stopped at the line of scrimmage but not taken down, so he bounced it to the outside and was off to the races. Just got caught a few yards before the goal line. 
Pinned
Pinned
Mahomes is back on the sideline, and he has his helmet on. Typically if you are definitely not coming back into the game, the training staff takes away your helmet.
Pinned
Foye Oluokun ALMOST came away with a pick there on a tipped pass. Travis Kelce was wide open over the middle but it got tipped at the line and popped up into the air.
Pinned
Reminder about what happened the last time Chad Henne had to play in a playoff game for the Chiefs.
Pinned
The Chiefs are sending Mahomes to the locker room, and he is not happy about it. 
Pinned
Both quarterbacks are being forced to repeatedly check the ball down underneath. Mahomes is at 5.6 yards per attempt and Lawrence is at 5.9 per attempt. 
Pinned
Pinned
Trevor Lawrence is a very big man (6-foot-6), so these QB sneaks are quite effective for him. 
See More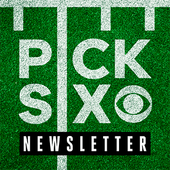 Please check the opt-in box to acknowledge that you would like to subscribe.
Thanks for signing up!

Keep an eye on your inbox.

Sorry!

There was an error processing your subscription.