Netflix's Vikings: Valhalla transports its viewers to the Viking Age and introduces them to an array of fierce warriors who truly existed.
The drama is now in its second season, which premiered on Thursday, January 12, and it brought in a slew of new and exciting characters.
Vikings: Valhalla continues to follow explorer Leif Eriksson (Sam Corlett), his warrior sister Freydis Eriksdotter (Frida Gustavsson), and Nordic prince Harald Sigurdsson (Leo Suter), and Season 2 brings Freydis in contact with Lord Harekr.
Here is everything you need to know about the character and if he was real.
Is Lord Harekr in 'Vikings: Valhalla' Season 2 Based on a Real Person?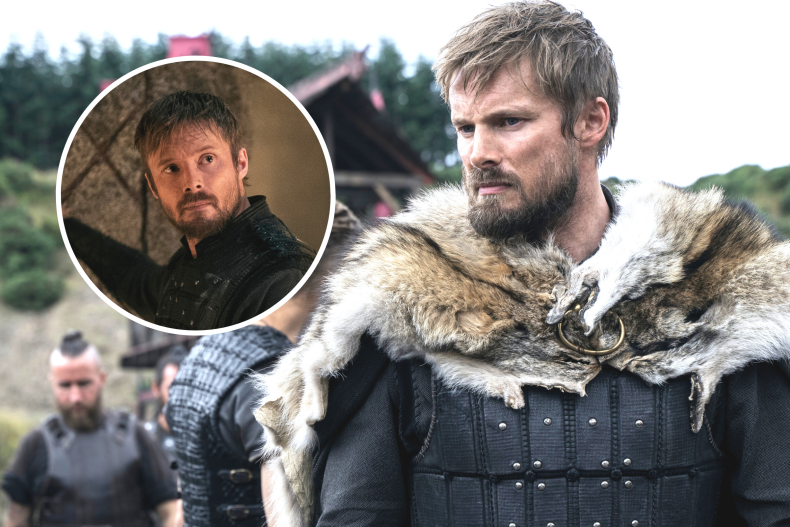 Lord Harekr is portrayed by Bradley James in the drama, and the character meets Freydis when she travels to his kingdom of Jómsborg.
Showrunner Jeb Stuart spoke about the new character in an interview with Netflix's TUDUM, and said: "Harekr is the ruler of Jómsborg, a sort of legendary Viking place where the uber-pagan Vikings lived.
"He's a great warrior, but since he's pagan, he's got a bull's-eye on his back for any of our pagan hunters, like Olaf.
"The Jomsvikings were very strict and rigid, so Harekr has very, very, very specific rules that he lives by. That's how the Jomsvikings rolled, they were very loyal to their leader. They would fight to the death, even when they didn't sometimes think that their leader was right."
Rather than be a truly real character like Leif Eriksson, it appears that Vikings: Valhalla adapted a real-life Viking's story to create the leader.
Lord Harekr appears to be based on the Viking Hårek of Tjøtta, who was not a ruler, but did help lead a peasants' revolt at the Battle of Stiklestad against Olaf Haraldsson (Jóhannes Haukur Jóhannesson).
This shouldn't be too surprising to viewers as Stuart has taken creative license with the story of some of the most famous Vikings, and many parts of the series takes inspiration from real people and historical events, but much of the drama is fictional for dramatic purposes.
Stuart told Newsweek in February 2022 that he enjoyed exploring the "gray area of history" in the show, which is a spin-off of Prime Video's Vikings.
"I have read so much on Vikings and talked to so many people about Vikings," Stuart said. "We obviously have great researchers who work with the show. They come up with the facts and things like that and we (the writers) come up with storylines that may be in the gray area of history.
"Our researchers can come to us and say 'wow, you kind of went a little too far outside of the lines on that.' I'd say, for the most part, we try to be credibly authentic to things like dress, weapons, speech, all of those types of things.
"We do that but we're taking certain licenses in terms of character in terms of, for example, Olaf and Harald.
"They may not have existed in the same time period, but they're very close (in existence) and so we use certain aspects of them and they would have shared some of the same period, some of the same things that were going on, so I can bring them together like that."
Vikings: Valhalla Season 2 is available to watch on Netflix now.