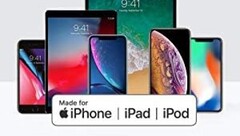 New iPhones are finally slated to drop proprietary connectors from their 2023 "15 series" onward. However, Apple fans looking forward to enjoying the universal appeal of USB type-C may be disappointed to learn that the Cupertino behemoth allegedly intends to impose its current MFi system on its version of the port. The rumored restrictions might be enforced using similar hardware that keeps the Lightning port in the same walled garden at present.
Apple has finally acquiesced to the pressure to drop the Lightning port, in a move that could make the 14 series the last iPhones to ship with in-house connectors worldwide. Despite this, however, the Cupertino giant reportedly has 1 last move against those hoping for the death of the dreaded "This accessory is not supported" on-screen message.
Proponents of sustainability in electronics and their manufacture may have hoped that the new universal-standard directives adopted or proposed by many jurisdictions worldwide would bring an end to the Made for iPhone (MFi) program, by which manufacturers must obtain an official OEM license to make Lightning-enabled accessories.
However, according to a Weibo-based leaker, Apple plans to make type-C to -C cables MFi too. This will apparently be done by integrating custom "lightning interface" integrated circuits (IC) into new iPhones going forward.
This is thought to allow the devices in question to detect and alert the user to non-approved peripherals as usual. It is not clear whether Apple's alleged bid to perpetrate MFi certifications on a type-C-only world will prevent the use of one's existing cable with a new 15-series unit or not.
Related Articles
Deirdre O'Donnell – Senior Tech Writer – 6007 articles published on Notebookcheck since 2018
I became a professional writer and editor shortly after graduation. My degrees are in biomedical sciences; however, they led to some experience in the biotech area, which convinced me of its potential to revolutionize our health, environment and lives in general. This developed into an all-consuming interest in more aspects of tech over time: I can never write enough on the latest electronics, gadgets and innovations. My other interests include imaging, astronomy, and streaming all the things. Oh, and coffee.
Deirdre O'Donnell, 2023-02-12 (Update: 2023-02-12)