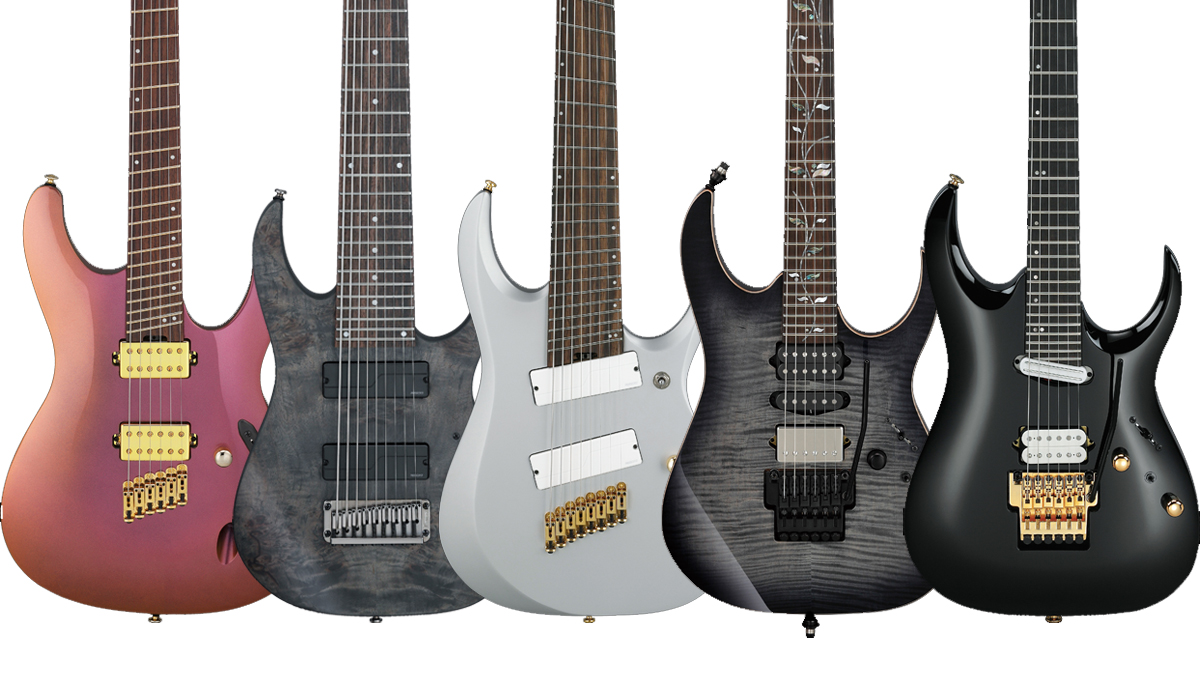 (Image credit: Ibanez)

Ibanez has started 2023 in a fashion that can only be described as sensational: the Japanese company has debuted its all-new Axe Design Lab series – a collection of experimental electric guitars that boast a range of eye-catching appointments and hard-to-obtain specs.
These features arrive in the form of varying string configurations – six-strings, eight-strings and nine-strings are all on the menu – as well as intriguing functional bonuses, including DiMarzio or Fishman pickups, multi-scale designs and versatile switching systems.
A particular highlight of the drop belongs is the RGA622XH, which arrives in a usual six-string format but boasts a whopping 27 frets. 27-fret models aren't new to Ibanez – the company dropped a 27-fret signature model for Periphery's Jake Bowen last year – but they are still a fairly rare breed, making these Axe Design Lab models all the more alluring.
As for the future of the collection, Ibanez has said its Axe Design Lab series will replace the Axion Label series, and will in time "cover every Ibanez product tier".
Further still, the brand has teased its latest lineup will feature everything from "ultra-modern takes on existing favorites, to guitars built on entirely new concepts" in an effort to create  "new frontiers and limitless creative potential for any modern guitarist".
To find out more about the premiere models, cast your gaze below.
Ibanez RG9PB
Starting with the biggest of the bunch, the RG9PB recruits Ibanez's RG body shape, but straps on nine strings and a 28" scale length. Described by the brand as perhaps the most extreme offering of the lot, the Transparent Grey Flat-finished monster features a nyatoh body with poplar burl top, a five-piece maple/walnut neck and a Macassar ebony fretboard.
In terms of hardware, it boasts a Graph Tech nut, jumbo frets and a Gibraltar Standard II-9 bridge, while the electronic department is headed up by two Fishman Fluence Modern humbuckers.
These pickups are at the mercy of a coil tap switch, as well as Fishman's flexible Voice selector switch, which can be found as a push/pull pot on the volume control.
The RG9PB will be available for $1,299.
Ibanez RG8870
At the other end of the string spectrum is the RG8870 – an Axe Design Lab rebirth of the brand's J.Custom template. Unsurprisingly, it's got many J.Custom specs at its foundation, but introduces a wealth of high-end add-ons, including the Lo-Pro Edge bridge, a scooped lower horn for better fret access, a chambered body and an asymmetrically profiled Wizard neck.
On paper, these tweaks are said to provide a lighter instrument more capable of harnessing a warm bottom end and improved tonal clarity, which is also faster to play owing to the fact the neck aims to promote "the natural position of the playing hand".
Build-wise, it boasts a Super Wizard AS 5-piece maple/wenge neck, which is topped with a jumbo fret-equipped Macassar ebony fretboard and a stunning Tree of Life inlay. Elsewhere, an alder body is complemented by a Black Rutile-finished AAA flame maple top.
The HSH configuration is made up of two DiMarzio humbuckers – PAF 36th Anniversary in the neck, The Tone Zone in the bridge – and a sole DiMarzio True Velvet single coil. As for controls, the RG8870 offers a versatile coil-tap switch.
The RG8870 will carry a price tag of $3,299.
Ibanez RGA622XH
Available in Black and White, the RGA622XH's color palette may be simple, but its spec sheet is anything but. Offering an expansive 27 jumbo frets, the double-cut offers the opportunity to harness additional upper frets that are unplayable on 22-fret and more modern 24-fret guitars.
Aside from the mammoth Macassar ebony fretboard, other specs include a mahogany body, five-piece maple/walnut neck and Prestige fret edge treatment, as well as a Lo-Pro Edge tremolo bridge, offset mother of pearl dot inlays and Luminlay side dots.
Tones come by way of DiMarzio Air Norton and The Tone Zone pickups, which can be tonally tweaked via the coil-tap switch, volume and tone knobs and three-way pickup selector.
The RGA622HX carries an estimated street price of $2,499.
Ibanez RGDMS8
The final extended string model of the Axe Design Lab series is the Classic Silver Metallic RGDMS8, which comes complete with eight strings, a nyatoh body and a five-piece maple/walnut neck that accommodates the 25.5" to 27.2" multi-scale construction.
More Fishmans make the cut once again, with the eight-string behemoth flashing a pair of Fluence Modern humbuckers. Another familiar feature drafted into the spec sheet is the coil-tap switch, which lines up alongside the Fishman Fluence voicing switch, a mono-rail bridge and – at the other end of the guitar – Gotoh MG-T locking tuners.
Here, the estimated street price is $1,199.
Ibanez SML721
Rounding off the round-up is the SML721 – arguably the nicest-looking six-string of the bunch, which flashes a gorgeous Rose Gold Chameleon colorway. It's got a spec sheet to match its impressive looks, too, which includes a subtle multi-scale design that moves from 25.5" to 25". According to Ibanez, the light multi-scale is said to facilitate better string tension in standard tuning and improved playability across the fretboard.
A familiar nyatoh body is adjoined to a five-piece maple/walnut neck, which in turn flashes a rosewood fingerboard that carries Jumbo Jescar EvoGold frets. This is also the only guitar that doesn't have Fishmans or DiMarzios, instead flashing Ibanez's own Quest series humbuckers.
Other notable appointments include Ibanez's dyna-MIX10 switching system and Alter Switch, a mono-rail bridge, Gotoh MG-T locking tuners and Luminescent side dot inlays.
As for price, it's the cheapest of the bunch, with an estimated street price of $999.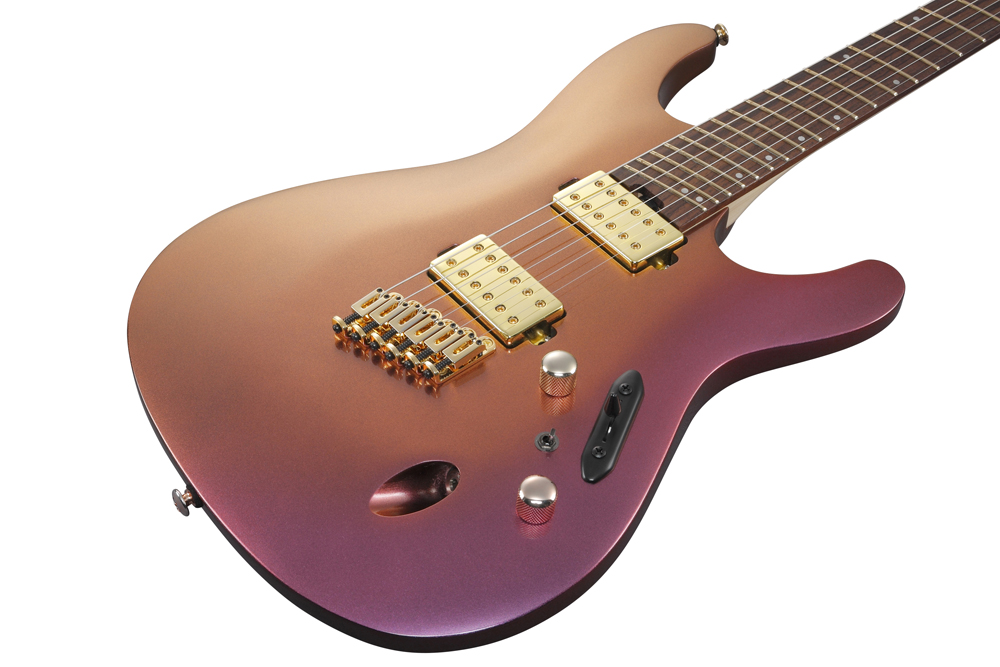 To find out more about the Axe Design Lab series, head over to Ibanez (opens in new tab).
Thank you for reading 5 articles this month*
Join now for unlimited access
US pricing $3.99 per month or $39.00 per year
UK pricing £2.99 per month or £29.00 per year 
Europe pricing €3.49 per month or €34.00 per year
*Read 5 free articles per month without a subscription
Join now for unlimited access
Prices from £2.99/$3.99/€3.49