A Democrat-led Congress recently approved a sweeping military spending bill that would increase aid to countries like Taiwan and Ukraine, raise pay for members of the armed services, and commit billions of dollars to upgrading the United States' arsenal amid escalating diplomatic tensions with countries like Iran, Russia and China.
Also included in the bill, known as the National Defense Authorization Act (NDAA), is a last-minute provision that, if adopted in its current form, would shield spouses of members of the U.S. Supreme Court from having to reveal any information about themselves in the name of national security.
Intended to protect judges from violence following a number of threats and highly publicized protests outside of Supreme Court justices' homes in recent months, the Daniel Anderl Judicial Security and Privacy Act of 2022 would essentially forbid the unauthorized disclosure of a judge or their family members' home addresses, phone numbers, license plate details, or any information about next of kin's workplaces, schools and daycares, and similar data.
While it applies broadly, many noted that the provision would have obvious implications for one Supreme Court justice's spouse in particular: Ginni Thomas—the controversial wife of conservative Justice Clarence Thomas—who has faced scrutiny over conversations she had with former White House Chief of Staff Mark Meadows encouraging then-President Donald Trump's efforts to overturn the results of the 2020 election.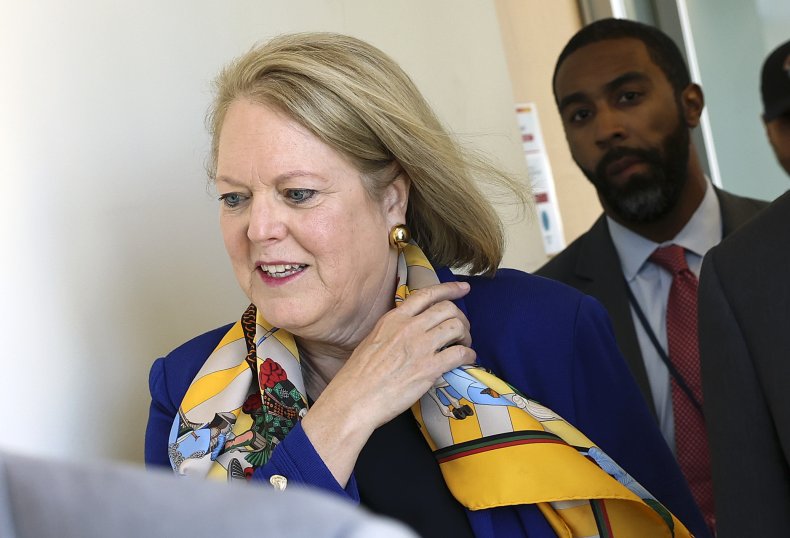 In the lead-up to the January 6, 2021, riot at the U.S. Capitol, the board of the Council for National Policy—of which Thomas is a member—instructed its members to "pressure Republican lawmakers into challenging the election results and appointing alternate slates of electors."
Thomas, according to media reports, worked not only with White House staff but with state-level officials in Arizona and Wisconsin in an attempt to throw out the results of the election, presumably in favor of the losing candidate, Trump.
Since then, Thomas—and her husband—have faced unyielding scrutiny about Thomas' role in attempting to subvert the results. She was named as being under consideration for a subpoena before the House Select Committee on the January 6 Attack over the summer to learn more about her connections to the day's events. She testified voluntarily in September.
Clarence Thomas, meanwhile, has continued to participate in arguments on a number of cases with clear implications for federal elections. Harvard University legal scholar Laurence Tribe argued this week that Thomas might have already violated federal law by refusing to recuse himself in proceedings surrounding Moore v. Harper, a controversial case about the power to draw and strike down electoral maps.
The primary reason? His wife.
"It's obvious that Ginni Thomas has an interest," Tribe said on MSNBC. "She was an active participant in the attempt to use something like the independent state legislature theory that was before the court on the argument on Wednesday and Clarence Thomas happily participated anyway."
The law would not change Ginni Thomas' status in Washington, nor would it substantially impact her husband. But it could set a precedent for press seeking to identify potential conflicts of interest in cases of significant public interest.
If the current NDAA is adopted as written, Ginni Thomas' professional entanglements, journalist Jane Mayer wrote late Thursday night, would "effectively be state secrets," with unclear implications for members of the press. Though she said she was confident there would be carveouts for the press in the final version of the bill, it's not certain what those might look like—if they're included at all.
"This will almost surely pass with carve outs for 'media' and 'opinion' reporting on matters of 'public concern,'" the "Dark Money" author wrote. "But it still adds new layers of secrecy around justices, judges, their spouses, and much more. Sponsors say it won't stifle the press. Hope they're right."