Mobiles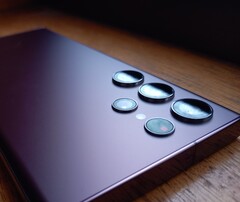 For the first time yet, an official-looking promotional teaser for the Galaxy S23 series has surfaced in the wild. The leaked image showcases the phones' designs, likely color options, and potential pre-order gifts.
Samsung is rumored to be planning its next Unpacked event for the first week of February. The company will debut the Galaxy S23 series at said event, and while "official" leaks of the phones have proven elusive, that looks to have changed now.
As revealed by 91Mobiles, a promotional image of the Galaxy S23 series has leaked ahead of schedule, with the publication citing industry sources. The leaked image seemingly confirms the design of the Galaxy S23+ and Galaxy S23 Ultra, with the S23+ to adopt an independent tri-lens setup at the back like the Galaxy S22 Ultra. As seen on prior leaks, the Galaxy S23 Ultra, however, seems to maintain its predecessor's design, almost to a tee.
If the leaked promotional image is anything to go by, the Galaxy S23 Ultra will be sold in a signature green colorway, while the S23+ will be marketed with a colorway somewhere between pink and violet. In addition, both smartphones are shown with the Galaxy Watch 5 and the Galaxy Buds2 Pro. Presumably, either device may be offered as pre-order gifts for the Galaxy S23+ and S23 Ultra.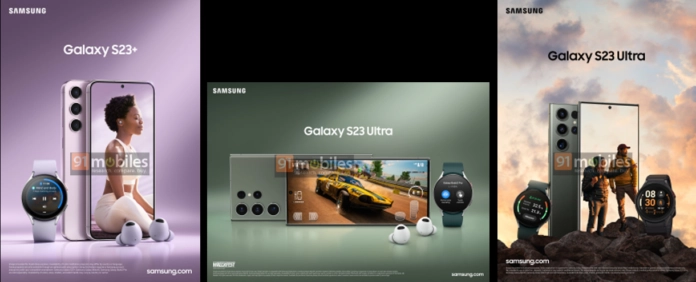 Related Articles
Ricci Rox – Senior Tech Writer – 2505 articles published on Notebookcheck since 2017
I like tech, simple as. Half the time, you can catch me writing snarky sales copy. The rest of the time, I'm either keeping readers abreast with the latest happenings in the mobile tech world or watching football. I worked as both a journo and freelance content writer for a couple of years before joining the Notebookcheck team in 2017. Feel free to shoot me some questions on Twitter or Reddit if it so tickles thine fancy.
Ricci Rox, 2022-12-25 (Update: 2022-12-25)