Gadgets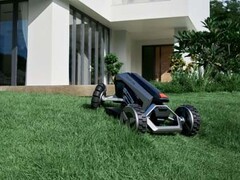 A new range of smart home products has been unveiled by EcoFlow at CES 2023. The Blade is a smart lawn-sweeping robot that can collect leaves and mow the grass, using GPS rather than a boundary wire for navigation. Also revealed was the Glacier portable fridge with a built-in icemaker and the Wave 2 portable air conditioner.
EcoFlow has announced a range of new smart home products at CES 2023. Included in the line-up is a robotic lawn mower, the Blade. The company claims it is the world's first lawn-sweeping robot, collecting debris such as leaves and cutting the grass. EcoFlow suggests that the gadget will provide a precise and professional finish on your lawn and help reduce the time you spend tidying your garden.
Like many of the latest robot lawn mowers, the Blade does not require a boundary wire to navigate your lawn, using GPS and LiDAR technologies instead. You can connect the device to your smartphone for app-based controls, such as preset programs. It also appears that you can manually steer the gadget, and the mower's blade can automatically raise and lower.
Plus, the company unveiled the Glacier, a portable fridge. EcoFlow claims this product is another market first, with an integrated ice maker. It takes the gadget around 12 minutes to produce 18 ice cubes. The device is powered by a 297 Wh battery, which you can recharge via solar panels, providing up to 24 hours of life. 
The EcoFlow Wave 2 has also been revealed, a new portable air conditioner which you can use to heat or cool a space. The device lasts up to eight hours on a single charge and is said to have 5,100 BTU cooling and 6,100 BTU heating. The EcoFlow Blade, EcoFlow Glacier and EcoFlow Wave 2 are expected to launch in April; the products' prices are yet to be announced.
Buy the EF ECOFLOW Portable Power Station RIVER 2 256 Wh on Amazon
Related Articles
Polly Allcock – Tech Writer – 1014 articles published on Notebookcheck since 2021
I've been interested in technology for as long as I can remember. From a young age, I have loved gadgets and understanding how things work. Since graduating, I have worked for several technology companies across FinTech, AdTech and Robotics.
Polly Allcock, 2023-01- 9 (Update: 2023-01- 9)