Representative Ted Lieu, a California Democrat, offered rare praise to former President Donald Trump on Saturday over the COVID-19 pandemic.
Tensions between Trump and Democrats have always been strained, with his policies and rhetoric surrounding the pandemic drawing condemnation from most of those on the left, who say he did not do enough to prevent the spread of the virus—including longer lockdowns or a rejection of anti-vaccine conspiracies.
Lieu, who represents a Los Angeles-area congressional district, however, said Trump did one thing right with regards to the pandemic, and praised the Trump administration's decision to invest in early funding for the COVID-19 vaccine as the correct course of action at the time.
"Donald Trump was right to invest significant government resources to jumpstart vaccines," the Democratic lawmaker wrote on Twitter. "The vaccines have worked as intended by reducing risk of hospitalization or death from COVID."
The Trump administration invested more than $10 billion into "Operation Warp Speed" to quickly advance the development and manufacturing of the vaccine, which has since helped curb the virus' spread, resulting in fewer and less severe COVID cases.
Meanwhile, Trump has found himself at odds with some of the GOP base over the vaccine, as many conservatives have rejected the jab despite health experts maintaining its safety and effectiveness.
Trump Backed Vaccine Despite GOP Skepticism
While the former president has voiced opposition to vaccine mandates, he has also encouraged his followers to take the vaccine. Trump himself has publicly said he received the vaccine and booster.
He has also touted "Operation Warp Speed," which helped deliver the vaccine in late 2020, as one of his defining achievements during his presidency. Since then, more than 250 million Americans have received at least one vaccine dose, according to Johns Hopkins University data.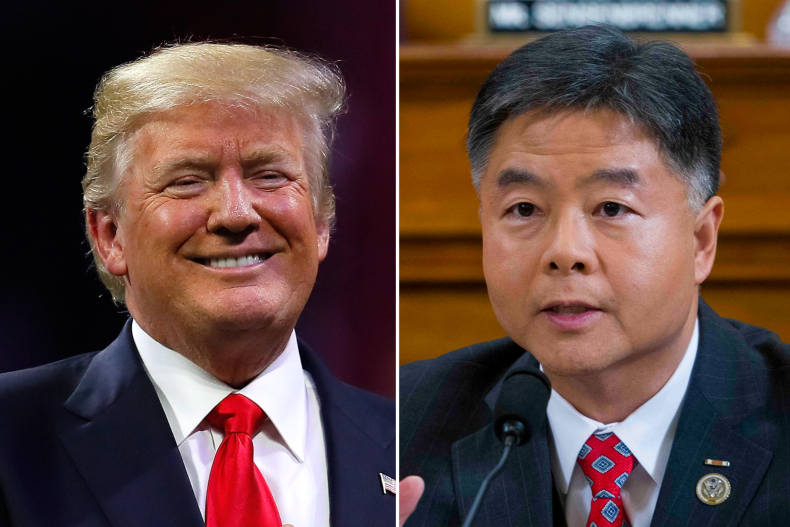 "I came up with a vaccine, with three vaccines," Trump said in a December 2021 interview. "All are very, very good. Came up with three of them in less than nine months. It was supposed to take five to 12 years."
Other Republicans, including some of his supporters, have pushed back against vaccines more vocally than Trump. Florida Governor Ron DeSantis, for instance, earlier this month called for a grand jury to investigate whether Americans were misled about vaccine safety.
Steve Bannon, a former Trump adviser, praised DeSantis for pivoting to the right of Trump on vaccines on Saturday. Meanwhile, Joe Lowndes, a professor of political science at the University of Oregon, told Newsweek earlier that even though many conservatives oppose vaccines, it likely will not be a defining issue in the 2024 presidential election.
After facing boos from supporters when mentioning the COVID-19 vaccine last August, Trump in July appeared to avoid saying the word "vaccine" during an Alaska rally.
"We did so much in terms of therapeutics, and a word that I'm not allowed to mention—but I'm still proud of that word," he said. "We did that in nine months, and it was supposed to take five years to 12 years and nobody else could've done it. But I'm not mentioning it in front of my own people."
Newsweek reached out to Trump's office and Representative Lieu's office for comment.