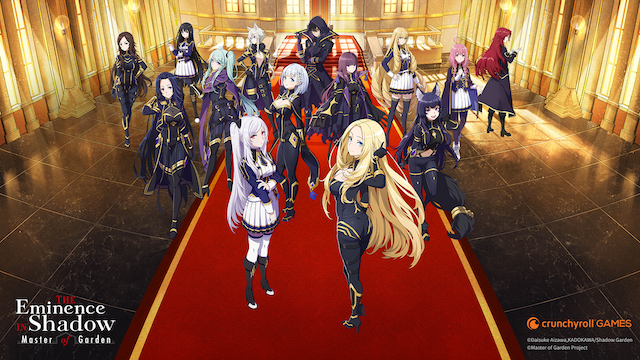 The latest anime-based RPG from Crunchyroll Games is The Eminence in Shadow: Master of Garden, which officially launched today. The game is available worldwide—excluding East Asia, Belgium and the Netherlands—on iOS and Android, and is coming soon to PC.
In addition to the new key visual above, Crunchyroll Games shared a launch trailer showing off gameplay footage. See how The Eminence in Shadow light novel and anime series makes the leap to mobile below.
The Eminence in Shadow: Master of Garden is a free-to-play RPG with in-app purchases. At launch, all players will receive 4,000 Instant Phantasm Gems for breaking 400,000 pre-registered players. Here are a few additional ways to score additional gems!  
Complete Beginner Missions to receive a free SS Rose, 10-pull ticket, and more.
Login everyday to earn up to 2,100 Phantasm Gems!
Earn over 4,000 Phantasm Gems for Completing the Challenge Missions!
Join us for the Holiday Rhapsody Event Starting December 2nd 
The Eminence in Shadow started as a web novel series by Daisuke Aizawa, and the anime adaptation is currently airing. If you're looking forward to the game, be sure to pre-register today!
RELATED: Crunchyroll Games to Launch The Eminence in Shadow: Master of Garden Game
Series synopsis:
"My name is Shadow. I lurk in the shadow, and hunt the shadow…"
A boy gets reincarnated as the noble house scion Cid Kagenou in a new world. He is neither a protagonist nor a last boss. He hides his powers to blend in with the mob, and manipulates the narrative from the shadows. As the self proclaimed "The eminence in the shadow", Cid and his secret organization, "Shadow Garden," work behind the scenes to defeat the dark Cult of Diabolos, which he totally made up. But it turns out that the cult actually exists…! 
It's a triple combo of the strongest hero, an excessive case of eighth-grader syndrome, and a seriocomedy of misunderstanding!
Download The Eminence in Shadow: Master of Garden on

iOS

 and 

Android

, today!