With a seven-point gap on Manchester City, 2023 promises so much for Arsenal. If the World Cup loomed over early season and brought with it considerable collateral damage, Mikel Arteta's team are yet to lose their step.
There are vulnerabilities. Brighton scored two late second-half goals, another ruled out by VAR, to stop this becoming a new year's parade. There will be further nerves to face down, starting with Newcastle on Tuesday and Arteta may soon have to locate some means to hide his personal fears.
At times, he cut a tortured figure but in Bukayo Saka, Martin Ødegaard, Eddie Nketiah and Gabriel Martinelli, each of them goalscorers, Ødegaard delivering a brilliantly creative performance, there is so much more to them than Gabriel Jesus. "A big win, I'm really happy, they made it tough for us," said Arteta. "Every game is a huge test."
Brighton had lost only three of 10 previous Premier League encounters with Arsenal and would eventually play their part, but it took only 70 seconds for them to concede. Martinelli picked up the ball after Ødegaard's surge, and the ball eventually deflected for Saka to finish.
It might soon have been two, Robert Sánchez smothering when Oleksandr Zinchenko had escaped down the left, where Tariq Lamptey struggled with Martinelli's effervescence. The Ghanaian's strengths lie in attacking, and from his overlap Leandro Trossard, Brighton's false No 9, had a shot deflected. His brogues and trouser legs muddying as he paced, Arteta cursed when Trossard forced Aaron Ramsdale into a high save.
Ødegaard, leading by the example of excellence rather than chest-beating, put a smile back on his manager's face just before the break. First to a second ball after a Saka corner, the Norwegian's shanked goal much owed more to fortune than his otherwise impeccable technique. "I think it was a great goal," he said. "Three points was everything today."
"He's doing what we want him to do, to decide football matches," said Arteta of his captain. "All four front players scoring today, that's great news."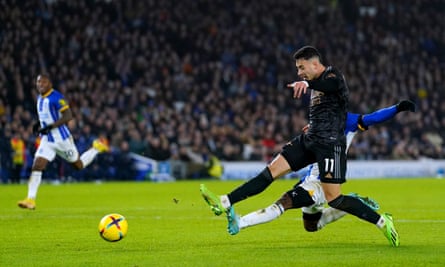 For Brighton, there was no sign of Alexis Mac Allister, still missing though presumed sobered up from Argentina's celebrations. He received warm applause in the match's preamble only for the stadium announcer to ask – presumably in jest – if anyone had the midfielder's number.
The Argentinian could have replaced Moises Caicedo, suspended after being booked in the 3-1 defeat of Southampton. Billy Gilmour, partnering Pascal Gross, struggled in midfield. With both Mac Allister and Caicedo topping January transfer wishlists, Roberto de Zerbi, and the club's CEO Paul Barber, freshly honoured in the King's New Year's Honours, may soon require more permanent midfield solutions. "I can say nothing more than Mac Allister is in my Brighton team, I can tell you nothing more," said De Zerbi.
In scoring within the first minute of the second half, Arsenal looked to have their aching advantage over City wrapped up. Saka started the move before Nketiah swept in after Sánchez could only parry Martinelli's shot. Nketiah did not start a Premier League game before Jesus's World Cup injury but has scored twice in two starts since.
Three goals up, Arteta took off Zinchenko and Ben White for Kieran Tierney and Takehiro Tomiyasu, to protect key players. When Kaoru Mitoma cut in from the space his lax Japanese compatriot had left to score, it was a reminder of how reliant Arteta has been on his first XI, his squad far thinner than their chasers.
Within those bare bones is the quality of Ødegaard, whose outrageous raking pass set up Martinelli's goal before teenager Evan Ferguson's first Premier League goal set up a climax in which Brighton showed a danger their first half had lacked.
"Maybe we need to control the game a bit better," admitted Ødegaard. "We let them in a couple of times, but they are a good team, good on the ball."
When Mitoma had the ball in the net a second time, a miraculous comeback looked on, only for technology to intervene. "The last goal of Martinelli, it closed the game," shrugged De Zerbi afterwards.
Manic on the touchline through those closing moments, Arteta called for a calm his frenzied expression did not remotely match. He was eventually able to breathe. His team could look down on City from a greater height.