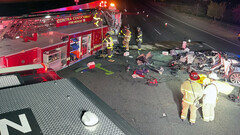 The NHTSA will have to add another deadly accident with a Tesla Model S driver slamming into a parked emergency vehicle to its ongoing investigation. It recently found issues with Tesla's self-driving system that may cause speeding or running stop signs, resulting in a major recall for an OTA update.
Whether because the driver was not paying attention lulled by the comfort of Tesla's autonomous driving system, or simply because they were speeding at 4 AM, a Model S crashed into a ladder truck in California with the driver pronounced dead on the scene. The front of the Model S had to be cut to retrieve the body of the driver, while the passenger was taken to the hospital and the firemen suffered only minor injuries.
On last count, the National Highway Traffic Safety Administration (NHTSA) was investigating seventeen such crashes of Tesla cars into emergency response vehicles on the highway or in the emergency lane resulting in fatalities or injuries. Early on Saturday morning, the fire truck was parked diagonally on the northbound lanes of the I-680 to protect emergency respondents from the Contra Costa County Fire Protection District who were clearing a previous incident there.
The Model S then slammed into the ladder truck which had its lights flashing on the scene with what looks like a great speed given how the front of the car was completely obliterated and the driver probably had no chance of survival after such collision. The firefighters then had to respond to the Tesla crash and they cut the electric vehicle open to take the occupants out.
The NHTSA investigation is studying whether there is any direct correlation between the frequency of Tesla-involving crashes into parked emergency vehicles on the highway, especially with low visibility, compared to such accidents with non-Tesla vehicles. If it finds some unequivocal proof, it may force Tesla to remedy its autonomous driving system yet again. Its probe into Tesla's Full Self-Driving Beta mode, for instance, just resulted in a massive recall as the NHTSA said FSD may cause speeding or run stop signs in some scenarios, so it would be interesting to see what its investigation will say about Tesla's penchant for slamming into emergency response vehicles. 
Slow down and move over when approaching emergency vehicles. Truck 1 was struck by a Tesla while blocking I-680 lanes from a previous accident. Driver pronounced dead on-scene; passenger was extricated & transported to hospital. Four firefighters also transported for evaluation. pic.twitter.com/YCGn8We1bK

— Con Fire PIO (@ContraCostaFire) February 18, 2023
Related Articles
Daniel Zlatev – Tech Writer – 597 articles published on Notebookcheck since 2021
Wooed by tech since the industrial espionage of Apple computers and the times of pixelized Nintendos, Daniel went and opened a gaming club when personal computers and consoles were still an expensive rarity. Nowadays, fascination is not with specs and speed but rather the lifestyle that computers in our pocket, house, and car have shoehorned us in, from the infinite scroll and the privacy hazards to authenticating every bit and move of our existence.
Daniel Zlatev, 2023-02-19 (Update: 2023-02-19)