Relationship
By
Rebecca Alter,
a news writer who covers comedy and pop culture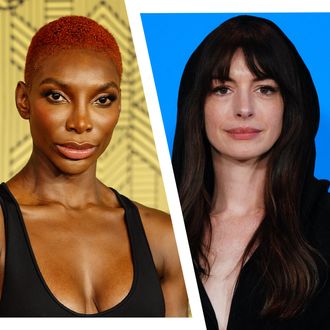 A24, you've done it again.
Photo-Illustration: Vulture. Photos: Getty Images
The latest in news that would kill a small Victorian child and maybe even a large Edwardian adult: Anne Hathaway is set to play a pop star in an "epic pop melodrama" with original music by Charli XCX and Jack Antonoff. The movie will be written and directed by David Lowery, who previously made Rooney Mara eat her very first pie in A Ghost Story and gave us sexy, sweaty Dev Patel in The Green Knight. The film, called Mother Mary, will be about "a fictional musician (Hathaway) and her relationship with an iconic fashion designer," played by I May Destroy You writer and star Michaela Coel. Does this mean that Coel co-chairing this year's Met Gala is all just some undercover Fielder Method acting research? Perhaps. According to The Hollywood Reporter, Mother Mary will film in Germany. Anne Hathaslay performing on location at Berghain? We will be watching.
Anne Hathaway Enters Her Hyperpop Era for A24's Mother Mary
Things you buy through our links may earn Vox Media a commission.