Here are the dates and times for every round of the NFL playoffs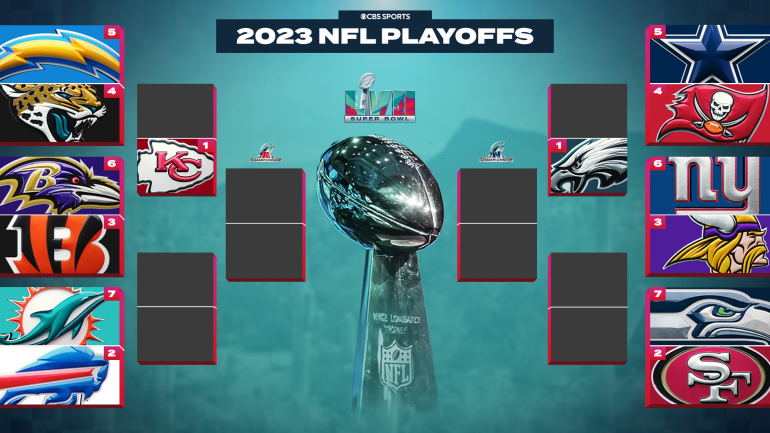 After a wild season, the NFL playoffs are finally here and if you like rematches, then you're definitely going to love what the NFL has in store for Super Wild Card Weekend beginning on Saturday. 
All six games from the opening round will feature a rematch from the regular season, marking just the fifth time since the NFL-AFL merger in 1970 that the opening round will feature all rematches. Before this year, the last time it had happened came in 2009. 
Although there will be some familiar faces this year — Hello, Tom Brady and Patrick Mahomes — there will also be three teams who are in the playoffs for the first time in several years with the Jaguars (2017), Giants (2016) and Dolphins (2016) all making their first postseason trip in at least five years. 
As for Brady, he'll actually be in an unfamiliar position this year. The NFL legend will be leading the 8-9 Buccaneers, who will be going into the postseason as just the sixth team ever to make the playoffs with a losing record. Brady's first game will be coming against a Cowboys team that he's never lost to in his career (7-0). 
And don't forget, this postseason could also give us a twist: If the Bills and Chiefs end up playing each other in the AFC Championship, then the game will be played at a neutral site. However, there's no guarantee that game will happen because the defending AFC Champs — the Cincinnati Bengals — might have something to say about that. 
So when and where will everyone be playing during the postseason? 
Let's get to the playoff schedule and find out.
Super Wild Card Weekend
Saturday, Jan. 14
(7) Seahawks at (2) 49ers (-10), 4:30 p.m. ET (Fox, stream on fuboTV). These two division rivals have played each other twice this year and the 49ers defense shut down the Seahawks each time. Back in Week 2, the Niners beat the Seahawks 27-7. San Francisco followed that up with a 21-13 win in Week 15. The only thing that might be working in Seattle's favor is the fact that rookie quarterbacks tend to struggle in the playoffs, going 9-18 since 1983.
(5) Chargers at (4) Jaguars (+1.5), 8:15 p.m. ET (NBC, stream on fuboTV). This is a rematch of one of the most surprising games of the year. Back in Week 3, the Jaguars destroyed the Chargers 38-10 on the road. Trevor Lawrence threw three touchdowns on a day where the Jags put up 413 yards of total offense. 
Sunday, Jan. 15
(7) Dolphins at (2) Bills (-10), 1 p.m. ET (CBS, stream on Paramount+). These two teams split their season-series with each team winning at home, but it's worth keeping in mind that both games were decided by three points or less. The big question here revolves around who will be starting at quarterback for the Dolphins. Right now, Tua Tagovailoa (concussion) and Teddy Bridgewater (finger) are both banged up. If they can't go, Skyler Thompson will get the start.
(6) Giants at (3) Vikings (-3), 4:30 p.m. ET (Fox, stream on fuboTV). These two played one of the wildest games of the season on Christmas Eve in a matchup that wasn't decided until Greg Joseph hit a 61-yard field goal on the final play. This will be Minnesota's first home playoff game since the Minneapolis Miracle in January 2018.
(6) Ravens at (3) Bengals (-6.5), 8:15 p.m. ET (NBC, stream on fuboTV). It's not clear if Lamar Jackson (knee) is going to play on Sunday, but even if he does, it will mark his first action in six weeks if he's on the field. Jackson did lead the Ravens to a 19-17 win over the Bengals back in Week 5, but the Bengals got their revenge with a 27-16 win in Week 18 to get a split of the season series.
Monday, Jan. 16
(5) Cowboys at (4) Buccaneers (+3), 8:15 p.m. ET (ABC/ESPN, stream on fuboTV). If the Cowboys are going to advance to the divisional round, they're going to have to do something they've never done: Beat Tom Brady. The Cowboys are 0-7 all-time against the Buccaneers QB and that includes a Week 1 loss where Tampa Bay topped Dallas 19-3.
Divisional Round
Saturday, Jan. 21 and Sunday, Jan. 22
The NFL will announce the divisional round schedule during the wild card round. Here are two things we definitely know about the divisional round: The Chiefs and Eagles will be hosting a game and the winner of the Cowboys-Buccaneers game will be playing on Sunday, Jan. 22. 
Championship Sunday
Jan. 29
NFC Championship, 3:05 p.m. ET (Fox)
AFC Championship, 6:40 p.m. ET (CBS)
Super Bowl LVII
Feb. 12
AFC Champion vs. NFC Champion at State Farm Stadium in Glendale, Arizona, 6:30 p.m. ET (Fox)